Loading...


Government and Politics



Thursday, October 3, 2013




Midnight deadline to get the internet cafe referendum on the 2014 ballot




Opponents of the law need more than 70,000 valid voter signatures to stall the law that would put them out of existence




by WKSU's ANDY CHOW



Reporter
Andy Chow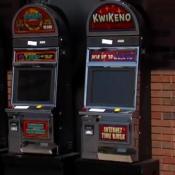 According to the opponents of the law, its provisions would shut down internet cafes across Ohio.
Courtesy of Kbhatia
Download (WKSU Only)
In The Region:
The group trying to hold a referendum on Ohio's internet café restrictions has until midnight to turn in their newest list of voter signatures.

The Ohio Secretary of State determined that only about a third of the original signatures collected by the Committee to Protect Ohio Jobs were valid. That left the group more than 70,000 short of the 231,000 needed to get the issue on the November 2014 ballot.
The group had 10 more days to reach its goal.
Matt Dole, a spokesman for the committee, says it's stopped collecting signatures. He says the referendum backers must create an electronic record in addition to hard copies of the signatures it plans to submit to the Secretary of State's office.
---
---
---
Stories with Recent Comments