Loading...


Economy and Business



Thursday, October 3, 2013




Rolling Acres may be headed to the auction block




The crumbling mall is losing its last tenant, and redevelopment may be hampered by multiple owners of the property


by WKSU's KABIR BHATIA


Reporter
Kabir Bhatia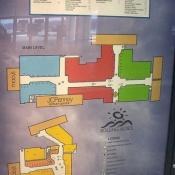 Store directories like this one hadn't been updated in a decade when the mall closed in 2008. The last tenant -- an outlet store in the former JCPenney space -- is slated to close in a few months
Courtesy of Flickr
Download (WKSU Only)
In The Region:
The future of a once-thriving northeast Ohio mall is unknown, as foreclosure looms for Akron's Rolling Acres Mall. WKSU's Kabir Bhatia reports the 38-year-old site is not likely to be reborn as retail.
Rolling Acres' owner Premier Ventures of California is on the hook for more than $674,000 in back taxes. The City of Akron says there's a possibility it could own the mall if a sheriff's sale next summer does not find a buyer.

Rolling Acres' five large former department stores are not owned by Premier, and would not be part of a foreclosure auction.

Former big box stores nearby have been redeveloped into warehouses and office space. Tim Dimoff managed the mall until 2011, and says non-retail is probably what's best there now.

"There's already a lot of underground utilities there. It's 50 acres. There's plenty of parking. And there's a lot of additional land outside the area of the mall as well."

Recent photos online show decaying and mildewed floors and ceilings inside the mall itself. As for the last remaining tenant, JC's 5-Star outlet, no closing date has been set, but it's slated to stay open through the holidays. The city says there are no current plans for what to do with the property.
---
---
---
Stories with Recent Comments