Loading...


People



Monday, October 7, 2013




Despite the federal government shutdown, lawmakers still looking at immigration reform




Weekend of rallies targeted Ohio's congressional delegation, including Painesville Republican Rep. Dave Joyce


by WKSU's KABIR BHATIA


Reporter
Kabir Bhatia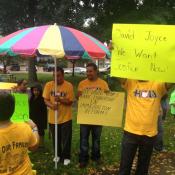 HOLA hosted one of dozens of rallies throughout the country over the weekend, urging legislators to support immigration reform, and calling on citizens to mobilize.
Courtesy of KABIR BHATIA
Download (WKSU Only)
In The Region:
With Congress preoccupied by the government shutdown, Democrats have quietly introduced an immigration proposal in the House. And immigration reform advocates are vying to get lawmakers' attention during a chaotic time in Washington. WKSU's Kabir Bhatia reports.
The Senate passed an immigration bill in July that laid out a pathway to citizenship for illegal immigrants. It also called for 700 miles of fencing at the U.S.-Mexico border, plus 20,000 more agents.

The proposal by minority Democrats in the House scraps the fences but requires the Department of Homeland Security to come up with some kind of plan to ensure the apprehension of 90 percent of illegal border-crossers within five years. But there are no staffing or cost guidelines for the department to work with.


In Painesville...
Over the weekend, a few yards from Congressman Dave Joyce's office in Painesville, about 200 rain-soaked immigrants gathered to ask the freshman congressman to come out in support of immigration reform.

The rally was sponsored by HOLA, a northeast Ohio Latino advocacy group. Executive Director Veronica Dahlberg says she meets with Joyce's staff weekly regarding immigration issues, and has spoken with the congressman on occasion.

"He's accessible. He's not arrogant like some congressmen. He really does hear the people. However, what I don't know is where he stands on this issue. I think he is still in the information-gathering stage. We're trying to inform him of how this issue impacts our lives."

On Sunday, Congressman Joyce was not available for comment. But his website has a prominently displayed poll asking for opinions on immigration legislation, ranging from a pathway to citizenship with secured borders, to no new laws at all.

Clashes in the past
Painesville has a large Hispanic population, which has occasionally clashed with some of the locals in recent years over immigration reform.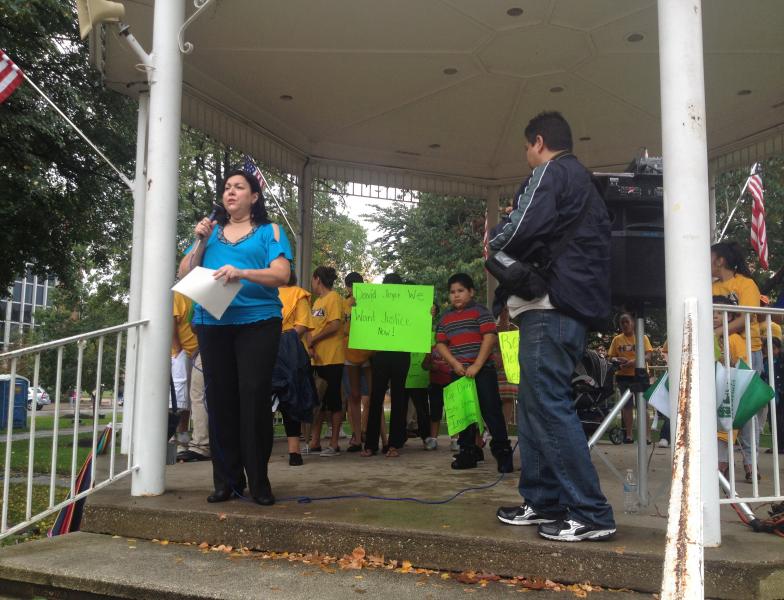 In 2007, federal agents began raiding the city on a regular basis. A 2012 pro-amnesty protest along the city's main drag was met with opposition on the other side of the street.

But City Councilwoman Lori DiNallo says elected officials need to rise above that.

"I think the big thing to realize is, our government is always reforming, all policy, everything we do. ... There are things that we don't know; we have no idea how things are going to affect other people. So everything deserves a voice and an ear. And if you have committed yourself to representing people, that's what your job is."

She plans to introduce a resolution in council urging Joyce to support immigration reform.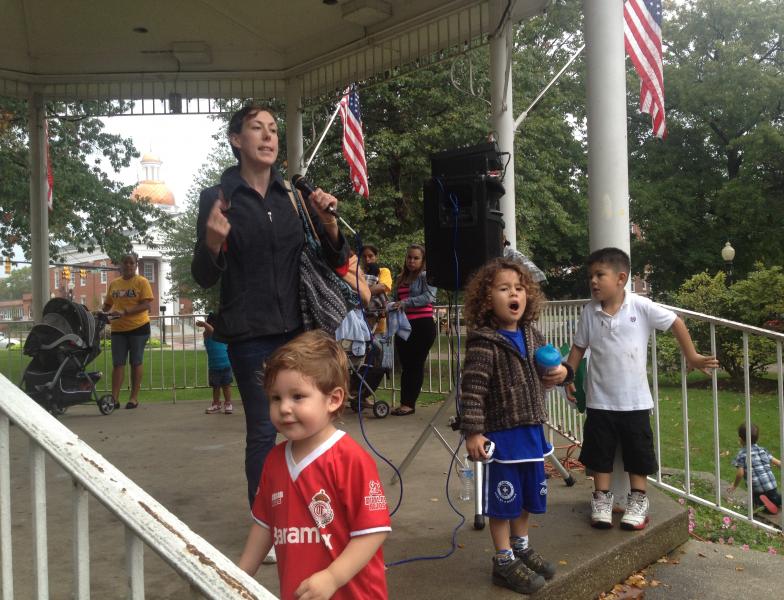 Too little, too late?
When Elizabeth Perez's husband ran a red light in 2010, he was deported after 17 years of living in the U.S. illegally. Perez was born here, as were her parents and the two young boys she's now raising alone.

"When I have things to do, or make a doctor's appointment, I have to take them with me. And they are wild because I don't have the support system of my husband to help me with that. ... Kids act different with their mom than their dad. Everybody sees that. So with me, they run me all over the place and run me ragged. I need him with me to help me do this."

HOLA cites the separation of families as a key reason for immigration reform. But Director Dahlberg is not hopeful that Congress will pass an immigration overhaul any time soon, with so much attention focused on Obamacare, the debt ceiling and the government shutdown.

Her group plans to meet with Joyce and another Northeast Ohio congressman, Jim Renacci, as well as Senators Sherrod Brown and Rob Portman during the next congressional recess to discuss reform.

---
---
---
Stories with Recent Comments