Loading...


Government and Politics



Monday, October 7, 2013




Ohio group fights for railroad safety regulations




Although the rate of train-car collisions has dropped by nearly half in the past decade, activists say too many crossings are still unsafe




Story by

AKILAH PORTER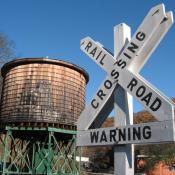 Many railroad crossings don't even have a crossbuck, the traditional crossing sign, to warn drivers. Activists say gated crossings are the safest, but laws favor railroad companies when it comes to safety requirements.
Download (WKSU Only)
In The Region:
Railroad safety advocates say more needs to be done to prevent fatal collisions between cars and trains. A 15-year-old Ravenna girl died and five passengers were injured last Sunday when her car was struck by a train at an un-gated crossing. Vicky Moore, founder of The Angels on Track Foundation, says that while drivers are often blamed, many crossings are unsafe.
"People should be outraged that only 35 percent of the public-crossings in the country are protected with gates. They should also know that most private-crossings have no warnings at all."

Moore says 73 train-car collisions occurred last year, with 9 deaths. That's half the number compared to a decade ago.

But she says nearly 3,000 railway crossings in Ohio still have no warning signs.
---
---
Stories with Recent Comments