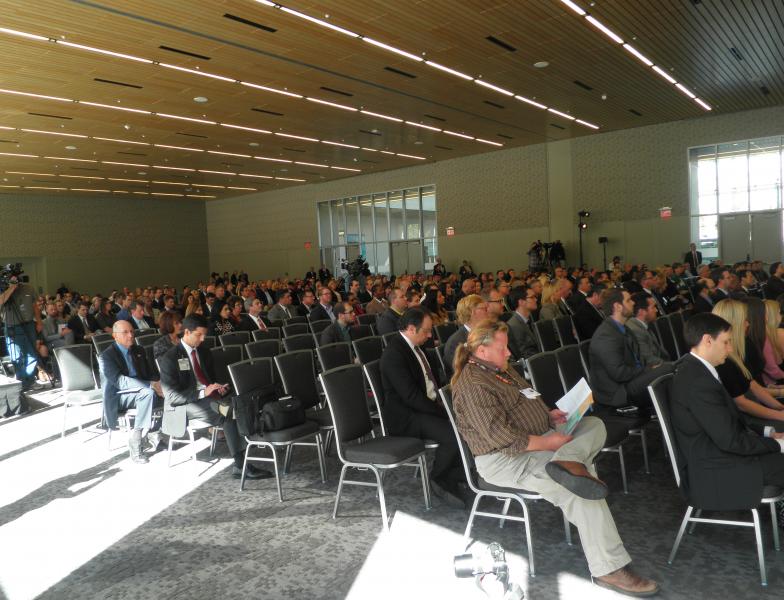 Just across from Cleveland's new convention center, a dozen business, government and health care officials lined the dais in the new Global Center for Health Innovation's ballroom. They all spoke of the partnership, collaboration, pessimism and optimism that led to this day.

Cleveland Clinic President and CEO Toby Cosgrove originally proposed the medical exhibit hall nearly a decade ago.
"When it was first floated, nobody thought it was a good idea until other people thought it was a good idea. New York tried to do it and failed; Nashville tried and failed. It all came together in Cleveland and
Cleveland made a success out of it and coupled it with a great convention center. And I think the two work very nicely together."
Nearly three dozen events and counting
The new convention center opened in August and has hosted several events including the National Senior Games. And this year, 34 health related events are booked at the facilities, starting with the Cleveland Clinic's 2013 Medical Innovation Summit next week. So far, 23 similar events are slated for next year.


All these events bring thousands of people and their money to the region. GE Health Care is one of 16 medical equipment makers that are committed tenants at the Global Center. During the ribbon-cutting ceremony, CEO Tom Gentilly said GE will use the space as a laboratory to examine how to connect its wide range of medical products to treat different medical conditions.
Show and tell
"For example, upstairs in our booth on the second floor, for neurology we'll highlight some of the work we're doing on Alzheimer's disease. We'll show a PET CT and the way we can image the beta amyloid plaque that could be a precursor to dementia.

"We'll show a project we're doing with the NFL on traumatic brain injury and how advanced brain scanning can assist with that. In the area of cardiology, we're going to showcase some of our scanners that can help in the cath lab."
Eighty percent of the space in the Global Center is leased by medical companies like GE and providers like the Cleveland Clinic. Backers believe having the facility in Cleveland will boost the region's global reputation as a health care mecca.