Loading...


Ohio



Thursday, October 10, 2013




Ohio investigation concludes guards falsified logs in Ariel Castro suicide




Says they failed to complete rounds and took shortcuts




by WKSU's STATEHOUSE BUREAU CHIEF KAREN KASLER




and

KABIR BHATIA



Reporter
Karen Kasler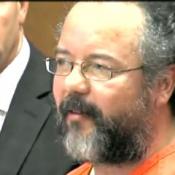 At his trial, Ariel Castro presented a statement that even his own attorney said showed he cannot be empathetic to his victims.
Courtesy of WKYC
Download (WKSU Only)
In The Region:
An internal report accuses two prison guards of falsifying logs and failing to complete rounds on Sept. 3, the night Ariel Castro committed suicide in a prison near Columbus.

Both guards have been suspended.


Ariel Castro was serving life plus a thousand years for holding three Cleveland women hostage in his home for a decade, repeatedly raping them and fathering a child by one of them. The 53-year-old Castro was found dead in his cell with a sheet wrapped around his neck, and his pants and underwear around his ankles.

A report released today by the Ohio Department of Rehabilitation and Corrections says it's possible he was attempting auto-erotic asphyxiation – an act by which people achieve sexual satisfaction by briefly choking themselves into unconsciousness. Officials say no suicide note was found, and multiple evaluations of Castro found no tendency toward suicide.

The report also says Castro was not shown a mandatory suicide-prevention video when he arrived at the Orient Correctional Institute in August. It said he had expressed concern that his food was being tampered with, but the investigation said that was unfounded.

Additionally, the report says an ambulance was significantly delayed in getting to the prison after Castro's body was found, but says there's no indication that affected the outcome.

The findings are similar to those in the suicide of death row inmate Billy Slagle of Cleveland in August. Guards in that case were suspended as well.
---
---
---
Stories with Recent Comments