Loading...


Health and Medicine



Friday, October 11, 2013




Ohio Gov. Kasich decides to sidestep GOP Legislature to expand Medicaid




Conservative lawmakers stalled the expansion included in the governor's budget; Democrats and a coalition of healthcare providers and others kept pushing for it.


by WKSU's M.L. SCHULTZE


Web Editor
M.L. Schultze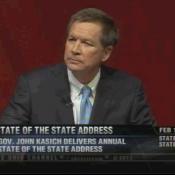 Kasich kept pushing to Medicaid expansion even after it stalled in the Legislature.
Courtesy of File photo of Kasich's State of State address
Download (WKSU Only)
In The Region:
Gov. John Kasich has decided to do what's been rumored for months – going around his fellow Republicans in the Statehouse to expand Medicaid in Ohio. Kasich plans to ask a spending oversight board called the Ohio Controlling Board to OK some $2.5 billion in federal money to expand Medicaid over the next two years. The expansion is expected to help some 275,000 working poor people get health coverage. Kasich first called for the expansion in when he unveiled his budget six months ago. He argued that – with the federal government picking up nearly all the costs -- it is the right thing to do fiscally as well as morally. But conservative Republicans in the Ohio House and Senate stripped it out of the budget and have not taken up the expansion in any other bill. Many argue that they don't trust the federal government to cover what it says it will. Some say it would encourage people to quit their jobs. If the controlling board goes along with Kasich, people with incomes up to 138 percent of the poverty level would be able to get coverage beginning Jan. 1. The federal government has pledged $3 billion for the next two fiscal years, which began Oct. 1. The Controlling Board is made up of six lawmakers, four Republicans and two Democrats, including Wooster Republican Rep. Ron Amstutz and Akron Democratic Sen. Tom Sawyer. The governor's budget analyst Randy Cole chairs the board.

Sawyer says he absolutely supports the move by the governor.
---
---
---
Stories with Recent Comments