Ancient art and modern science
The art of wine making was already ancient when the Sumerians first wrote about it 5,000 years ago. You'd assume that by now everything we could know about fermenting grapes is known. But the science of enology or wine-making is still in its infancy. The center of research in Ohio is OSU's Agricultural Research and Development Center in Wooster.
Researcher Todd Steiner introduces me to a small, brilliant green grape, which he says is perfectly suited to northeast Ohio's cool climate. It's called Gruner Veltliner, the signature grape of Austria. Only one Ohio vintner is currently growing it, and Steiner is studying the best window for harvesting Gruner in our region.

"It's a new variety and not all varieties have the same maturity in relationship to sugar, acid, and pH so we're doing an early, a middle, and a late maturity just to see what some of the sensory differences are and some of the chemical differences."

Crushing releases prize chemicals
Steiner and his assistant dump bunches of the marble-sized Gruner grapes into a machine called the crusher destemmer. Steiner describes it as basically, "potato-chip peelers," that separate the stems from the berries, which are then crushed by rollers.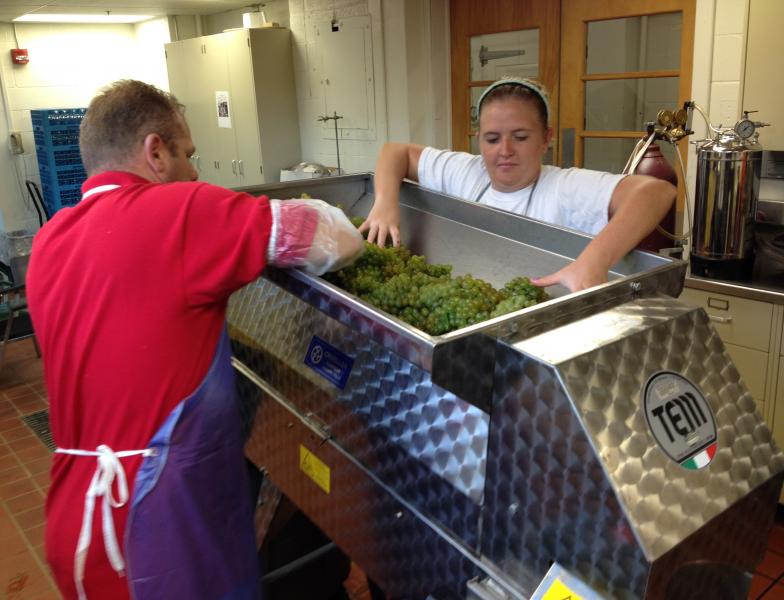 It's an important step for Ohio grown white grapes because of their high acid content. Steiner says California producers often skip this step and go straight to pressing, but grapes grown here benefit from the rough treatment. He says chemicals called terpenes and esters in the grape skin are released by the crusher.
Steiner says the longer the juice stays in contact with the skin, at the right temperature, the more of free volatile terpenes are extracted. These add the character, that Steiner say,"we will perceive when we do sensory on our wine," i.e., drink it.

Complex chemistry of wines
Research in the 1980's identified around 550 volatile compounds in grapes and wine that contribute to the aroma and taste of each glass. Each grape variety has its own chemical profile which changes depending on locale and yearly weather. Add-in the variables of crushing, pressing, fermenting, bottling, and aging, and the chemistry of a bottle of wine becomes bewilderingly complex.

That's why wine-making world-wide is a tradition-laden craft, often sticking to techniques handed down through the generations. But in Wooster's wine cellar, experimentation teases out the techniques best for Ohio wines.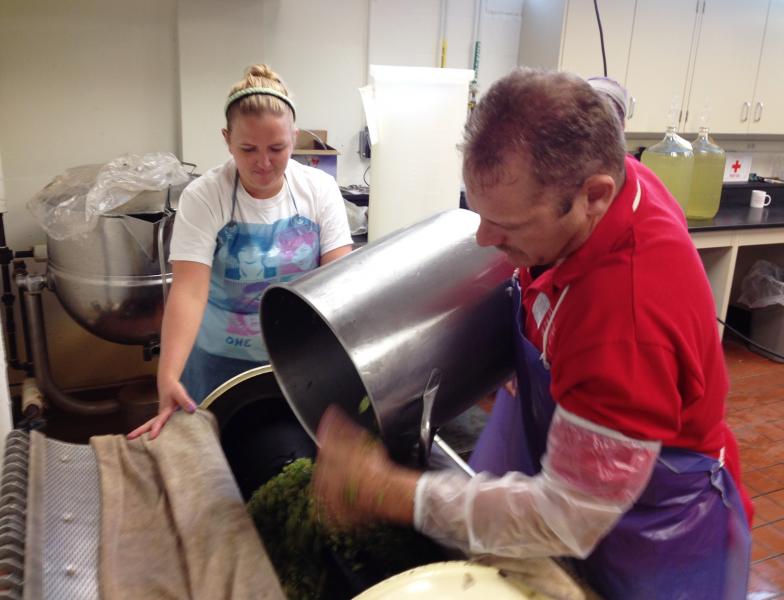 Now it's time for pressing.

The grape juice spills out of the bottom of the cylinder-shaped wine press. The drops release essence of sunshine, flowers in bloom, ripe bell peppers. Steiner has a different name for it - methoxypyrazine. Grapes harvested too early can be heavy on that note, yet another variable to contend with. Steiner says warmer years produce lower concentrations of the bell pepper-green character, cooler years might have higher concentrations, "so there's some things we can do to maybe lessen that in the cellar like hot pressing or things like that."

Teaching your nose to know what it senses
Enologists, or wine scientists, have narrowed the 550 chemicals nearly 90 readily identified scents in a dozen categories. They range from the 20 types of fruity aromas to the rather undesirable smells of burnt match or moldy cork. Each is linked to one or more chemicals that make it into the final product.
Steiner says, "The most common comment I get from people is they just didn't realize how much chemistry is involved in wine making."

He says, "it's not like the old days when you just take your shoes off and stomp around and throw some yeast in and you got your wine."

Steiner says fifty new wineries have popped up in Ohio in the past five years for a total of about 180 in the state's six wine regions. Ohio is sixth in wine production in the US, just behind Pennsylvania. And While California produces nearly 90% of the nation's wine, number two New York's best region is part of the same Lake Erie climate as northeast Ohio. It's here where Steiner hopes the new Gruner grape will take hold, and contribute to Ohio's growing fine wine reputation.
Steiner says despite the rainy start to this summer, the 2013 vintage will be one of the best in years.