Loading...


Sports



Wednesday, October 16, 2013




Armchair psychoanalysis of Browns QB Brandon Weeden




Terry Pluto on whether Weeden was pushed into the starting role too soon.


by WKSU's MARK URYCKI


Reporter
Mark Urycki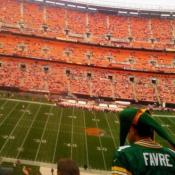 Pluto says Weeden may be better off playing on the road. Next game is in Green Bay.
Download (WKSU Only)
In The Region:
Browns quarterback Brandon Weeden struggled in three of the four games he's played this year. He also struggled as a professional baseball player, lasting five years in the minor leagues before turning to football.

WKSU sports commentator Terry Pluto sat down with Mark Urycki for a little psychoanalysis of Weeden.

Brandon Weeden received a half-million dollar singing bonus from the New York Yankees to play baseball. The pitcher could throw 95 mph but he never managed to find success in the minor leagues. He played five years and was never promoted out of Class A ball, the lowest full-season rung of the minors. Weeden went to Oklahoma State and became a star quarterback, and was chosen in the first round of the 2012 draft by the Cleveland Browns. Terry Pluto notes his late arrival in the NFL. "There is no one else in the NFL who had their 30th birthday in their second pro season. He is a unique player and case in NFL history." It seems that Weeden would arrive with the maturity that could help him become a successful QB in his very first season. But Weeden suffered a rocky first year and the people who drafted him were fired by new owner Jimmy Haslam. After losing the first two games of this season and losing last Sunday's home game against Detroit, Pluto wonders what Weeden is thinking. "I was just thinking 'I'm Weeden, I'm 30, where am I right now? I know my front office doesn't like me.'" Many top quarterbacks have had a year or two to develop before starting their first games. Could it be Weeden and other Browns quarterbacks were pushed into service too early? Listen to Terry's thoughts on that in the interview.
←
Terry Pluto discusses Brandon Weeden's past as a minor league baseball pitcher and college football hero.
---
---
---
Stories with Recent Comments