Loading...


Government and Politics



Wednesday, October 16, 2013




Cuyahoga Valley Scenic Railroad readies for end of shutdown




The scene railroad lost some of its busiest time of the year to the government shutdown




Story by

AKILAH PORTER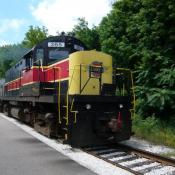 A Cuyahoga Valley Scenic Railroad train
Courtesy of Cuyahoga Valley Scenic Railroad
Download (WKSU Only)
In The Region:
The predicted end of the government shutdown could mean full steam ahead for the Cuyahoga Valley Scenic Railroad. The railroad is affiliated with the Cuyahoga Valley National Park. When the park shut down, the scenic railroad had to as well. Spokeswoman Kelly Steele-Moore said the railroad was closed during its busiest month of the year. She said they can't make up the loss, but they are ready to open back up.
"We are calling in crews, we're getting the train fueled up and ready to go and calling back in our part-time seasonals —they're all on standby at this point in time," said Steele-Moore. "As soon as we hear that everything is signed and the government has reopened, we want to be back on the rails in a couple hours."

Steele-Moore said the railroad is preparing for the popular Polar Express trips starting Nov. 15.
---
---
Stories with Recent Comments