One of the biggest criticisms of Ohio's education standards has been that they didn't do a good enough job in preparing kids for college or a career.
The Common Core, a new set of expectations about what kindergarten through 12th-grade students should know about math and English, is supposed to help change that.
But questions still surround the Common Core, including whether teachers are getting enough relevant training and whether the standards are even the right fit for Ohio.
Melissa Cropper, president of the Ohio Federation of Teachers, says she's seen through polling and anecdotally that there's a great deal of support for the standards themselves. But she admits problems remain with the implementation.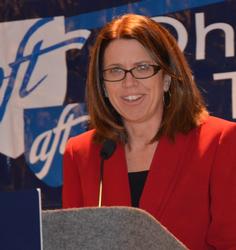 "There's this adjustment period going on where teachers are adjusting to the new standards, shifting the instructional strategies that they use, getting used to using the technology. But the standards themselves, the teachers actually like because they believe they're going to allow them go more in-depth on a topic, (use) more project based learning."
Cropper was one of five panelists at a forum on the Common Core recently held in downtown Cleveland.
Building while flying
Another panelist, Kirtland Local Schools Superintendent Steve Barrett, compares navigating the Common Core to building a plane while it's flying through the air.
While he believes the standards are a good idea overall, he thinks teachers need more training.
"In this country, we spend far fewer dollars on actually training teachers than in most countries around the world. We're doing a lot in Kirtland, but it never feels like enough."
Also on the panel was State Rep. Andy Thompson, a Republican from Marietta who has introduced a bill to repeal the Common Core standards. So far, his bill has gained little traction.