Just days after Republican congressman attacked federal spending on health care, Gov. John Kasich showed up at the Cleveland Clinic with a varied group of supporters who champion the expansion of Medicaid in Ohio.

Kasich -- himself a critic of Obamacare -- needs four votes from the State Controlling Board to expand Medicaid. He presumably has the votes of the two Democrats on the board, and of his own budget adviser. So he needs one of the four Republican lawmakers on the panel to go along on Monday's vote.

Kasich indirectly addressed his fellow Republicans, who argue the expansion is too much government spending.
The moral imperative
"Some of the people who have expressed concerns about this program (say) 'Are we creating a dependency?'" said Kasich. "I speak a lot about the moral implications.

"Yes, it'll save us money.Yes, it'll help our hospitals. But the morality of a human being who's been blessed helping a human being who has challenges is a moral imperative in our lives."
The Cleveland Clinic is the largest Medicaid provider in northern Ohio, says Dr. Linda Bradley. She says last year the Clinic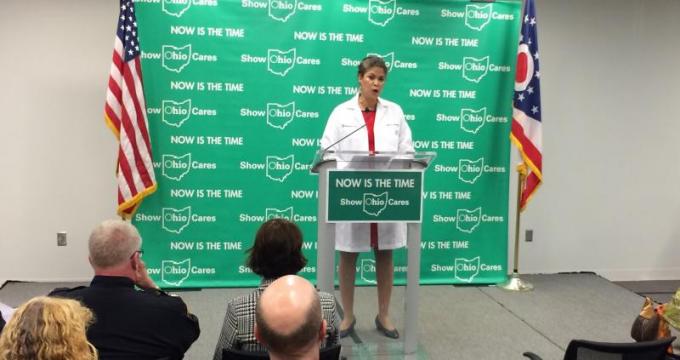 provided $150 million in charity care, mostly through its emergency rooms because people without health care wait until their symptoms become severe before seeking treatment. She's says that's the most expensive way to get care.
The worst way
"Episodic, fragmented, haphazard care is not what this doctor has ordered. We want all doctors to embrace this new Hippocratic oath: 'I will prevent disease wherever I can for prevention is preferable to a cure.'"
Bradley and the Clinic are hosting a Celebrate Sisterhood event Saturday where they'll offer free health screenings for women.
The cost of jails as treatment centers
The governor also highlighted Medicaid coverage for mental illness. Kasich said he and his daughter recently watched a 60 Minutes show about mentally ill people in jails.
"We have 10,000 people ... who are in our state prisons because they have mental illness. That's not where they belong."
Medina County Sheriff Tom Miller has seen that in person. He says his jail is one of the few that can treat mental illness but when the inmates eventually are released back on the streets without healthcare they return. He called them frequent flyers.

"Medicaid expansion can make a difference for those people; it can make a difference for our communities; it can make a difference for the individuals. By making a difference it becomes cost effective, too."
Another representative of the legal system, Judge David Fish of Barberton, says the courts have become a port of entry for people with mentally illness, but jails are too crowded. He says treatment is a more cost-effective way to handle the those afflicted.
"If you take away the support that we need to help these people, help them re-integrate, help them stay in their lanes, then it's going to be ruinous."
Speaking for the voiceless
Not everyone with mental illness ends up in jail. One young Akron woman, Heather Morris, says there's a stigma to mental illness. She showed up at the Clinic to say she is bi-polar and suffers serious depression without medication.The college graduate and small-business owner is without health insurance right now and addressed those members of the Controlling Board who will decide Monday on whether to accept the federal money.
"I think about the years that I suffered before I was diagnosed, and I think about the Ohioans who are living with mental illness and addiction disorders even today. I'm here on behalf of those voiceless thousands asking you to please consider us when you make your decision. The time is now."
If anyone looks at the bottom line of spending issues, it may business leaders. Joe Roman of the Greater Cleveland Partnership, the city's Chamber of Commerce, said many CEO's in his membership serve on hospital boards. Roman says they support the governor's call for expansion, calling it simply "the right thing to do."
If the Controlling Board accepts the deal, the federal government would pay for 100 percent of the cost of the expansion for the first three years and 90 percent of the cost thereafter.