Loading...


Government and Politics



Monday, October 21, 2013




After an eight-month fight, Ohio Gov. Kasich gets expansion of Medicaid




Opponents dismiss it as "Obamacare Light," and threaten a lawsuit


by WKSU's M.L. SCHULTZE


and

JO INGLES



Web Editor
M.L. Schultze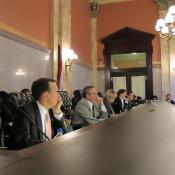 From the front to the back – Rep. Chris Redfern (D-Port Clinton), Rep. Jeff McClain (R-Upper Sandusky), Controlling Board Secretary Anne Dean, Controlling Board President Randy Cole, and Sen. Bill Coley (R-Cincinnati).
Download (WKSU Only)
In The Region:
The state Controlling Board has voted to extend Medicaid health coverage to as many as 330,000 low-income adults. The seven-member board did so at the urging of Gov. John Kasich, who first pushed the expansion in his State of the State address last February. GOP lawmakers later stripped it from his budget, and Kasich turned to the Controlling Board. Six of its members are state lawmakers. In a statement after this afternoon's vote, Kasich underscored the legislative makeup. "Together with the General Assembly we've improved both the quality of care from Medicaid and its value for taxpayers. … I look forward to continuing our partnership with the General Assembly to build upon the progress we've already made to make Medicaid work better for Ohioans." But some opponents of the expansion have threatened to sue, saying Kasich used the Controlling Board to usurp the role of the General Assembly.

The expansion passed on a 5-2 vote. Voting yes was the lone non-lawmaker on the board, Kasich budget adviser Randy Cole. He was joined by the two Democrats, Rep. Chris Redfern of Port Clinton and Sen. Tom Sawyer of Akron and by Springfield Republicans: Sen. Chris Widener and Rep. Ross McGregor. McGregor was a last-minute replacement to the board, added this morning by House Speaker William Batchelder.
By JO INGLES
A panel at the Ohio Statehouse has approved a plan to allow the state to accept $2.5 billion in federal funds to be to expand Medicaid. But as Ohio Public Radio's Jo Ingles reports, this move isn't doing much to end the fight over the controversial issue.

LISTEN: INGLES ON TODAY'S MOVE AND THE FUTURE

Other options:

Windows Media
/

MP3 Download
(0:52)
As expected, the Ohio Controlling Board voted to expand Medicaid, with two Republican lawmakers joining two Democrats and the governor's adviser in voting for it. The move allows the state's Medicaid director to draw down the money to expand Medicaid and allow some 275,000 low-income adults to get on the program. Gail Channing Tennenbaum is part of a coalition working for Medicaid expansion.
"The governor chose to go this route and we were thrilled with the bipartisan participation on the Controlling Board."

But Republican Repr. Lou Terhar feels differently.
"The basis for this government is supposed to be that everybody gets to vote. What just happened in there is that 90 percent of the people in Ohio just got disenfranchised because they didn't get to vote."
Opponents may get their day in court if they file a lawsuit as planned tomorrow morning.
---
---
---
Stories with Recent Comments