Retiring numbers is not all about greatness
Ilgaukis' average of 13 points and eight rebounds "doesn't exactly bring back memories of Wilt Chamberlin or … Kareem Abdul Jabbar," Pluto acknowledges. But "retiring number is a nostalgia play and a lot of sports is about nostalgia."
Some of the players whose numbers have been retired have a special meaning for the Cavs, even if they aren't always clear.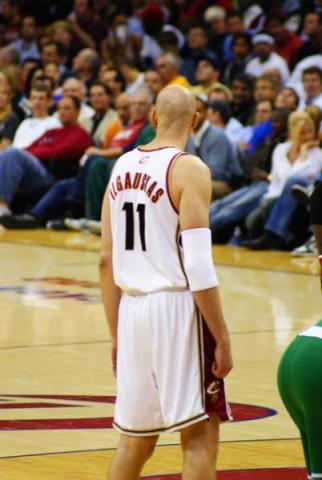 Some that don't make sense
Nate Thurmond's No. 42 is retired. He made the hall of fame, but by the time he played out his year and a half in Cleveland, his better days were passed.
"I found this one a bit strange," says Pluto. But he cedes to basketball commentator Joe Tait, "who said that because Thurmond was from Akron, he helped spark the team to its first ever playoff in 1975, the 'Miracle of Richfield' year – he has a special place in Cavs history."


And while to outsiders 'The Miracle of Richfield" is a team that won one round of the playoffs, "people in Cleveland are taken with that team because it's the first time a basketball team from here did anything."
And firsts matter. Bingo Smith was on the first Cavs team. His number is retired, though "he was not an exceptional player."
Some who stand out as greats
Then there are the players who make more sense. Like No. 22, Larry Nance with "several All-Star teams, first slam dunk champion in NBA history" and No. 25 Mark Price.
"He's the most popular player in Cavs history. I thought LeBron was passing him up until Lebron left. Price was a 6-foot guard with long jump shots. I thought Price was on his way to a Hall of Fame career, and he began ripping up his knee."
Some could-have-beens
Then there's Austin Carr, now the Cavs color man. He may have been one of the greatest college players ever," says Pluto, averaging 34 points at Notre Dame. "Of course he's here one year, begins breaking his foot, then he hurt his knee," and plays with the team for a decade. Every time you see Austin Carr you think, 'It could have been great,'" says Pluto.
Could they win a title collectively?
Together, he says, all those retired numbers would make a good team, but "I'm not sure win an NBA title with it. … What you don't have … you don't have a single Hall of Famer" who played in his prime with the Cavs.
Other options:

MP3 Download
(2:12)
Other options:

MP3 Download
(5:59)