Loading...


Arts and Entertainment



Tuesday, October 22, 2013




The search for a new Cleveland Museum of Art director is on




Museum officials say the institution's stature will attract the best candidates after Franklin's surprise resignation


by WKSU's KEVIN NIEDERMIER


Reporter
Kevin Niedermier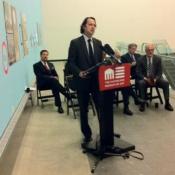 Former Cleveland Museum of Art Director David Franklin who resigned abruptly yesterday.
Courtesy of Kevin Niedermier
Download (WKSU Only)
In The Region:
The search is on for a new director at the Cleveland Museum of Art.

On Monday, David Franklin abruptly resigned after three years on the job. He says he wants to spend more time on research and writing.

A search committee has already been formed to replace Franklin. And, museum trustee and donor Fred Bidwell has been named interim director.

He would not comment on Franklin's departure. But he says the institution is nearing the end of its major eight-year renovation project, is doing well financially and is receiving good reviews for its new galleries and shows.
"If there was a time to have a change of leadership, and there's never a good time, this isn't a bad one. ... The museum is in fantastic shape, and we have a ton of positive momentum. And my job in the coming months as we search for a new director will be keeping that momentum going."
Bidwell says the museum's momentum ensures it will attract the top candidates for the director position. Franklin was the institution's fourth director since 2000.
---
---
---
Stories with Recent Comments