Loading...


Economy and Business



Tuesday, October 22, 2013




FirstEnergy makes a double-delivery to Davis-Besse




Akron-based utility says it is investing in the expectation of a long run continuing for the nuclear plant on Lake Erie


by WKSU's TIM RUDELL


Reporter
Tim Rudell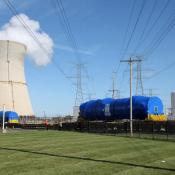 Two new steam generators arrive via rail from the Port of Toledo, where they were brought by ship from a manufacturing site in Canada
Courtesy of First Energy
Download (WKSU Only)
In The Region:
Two giant new steam turbines have arrived at the Davis-Besse nuclear power station near Port Clinton. WKSU's Tim Rudell says this is the next-to-last phase in a planned, five-year, $600 million upgrade of the power generating system at the plant.

Davis-Besse went on line in 1977 and plant owner First Energy is seeking an extension of its operating license that would run through 2037.
It took two ships to bring the 74-foot-long turbines across Lake Erie. The units took four years to build at a Babcock & Wilcox complex in Ontario. They are of the same design as the 35-year-old original turbines they're replacing, but modern, higher-tech materials make them more efficient.
Concern over steam
Nuclear opponents protested the upgrade citing potential dangers, but Jennifer Young of First Energy says the work is happening during a regular re-fueling shutdown. And she says water from the plant's reactor is carried in a separate system from the steam that powers the turbines.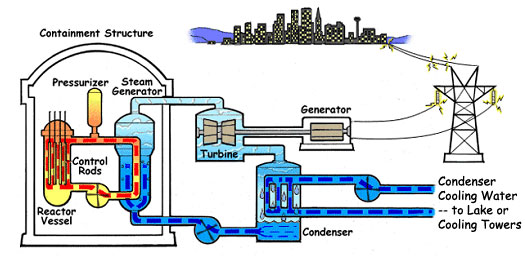 "The steam is not radioactive, it is heated in pipes that run beside the pipes bringing hot water from the reactor."

Jobs promised
Young says the upgrades are meant to make the plant a viable energy supplier in northern Ohio for a long time to come. And there will be a lot of at least temporary local hiring. "This will be a help to the local economy, with the people we'll be hiring for the installation. We're bringing in about 2,000 (people) to help with this work."

Final installation of the turbines will begin in the Spring of 2014.
---
Related WKSU Stories

No public hearing for Davis Besse equipment change-out
Thursday, August 15, 2013

This week's Davis Besse reviewis to be more of an open house
Monday, June 10, 2013

Environmentalists continue the fight over Davis Bess cracks
Tuesday, October 30, 2012

A look at security at Davis Besse
Tuesday, September 11, 2012

Public meeting shown how regulators came to their decision
Friday, August 10, 2012
---
---
---
Stories with Recent Comments