The drum rolls as some World War II vets gather at the bottom of the flag pole.

"I graduated from here in '45, so that's a long way back for you people," one recalls. "And I ran all sports, and it's quite a pleasure to be here this morning to raise the flag."
This is the kind of sound school districts love. Proud alumni returning to raise a flag over a brand-new high school.
Maple Heights built the school – and a complex of elementary schools and a middle school -- with state money matched by a bond issue that voters approved in March of 2008.
The margin of approval was slim – just 120 votes.
Then things changed

And that was about four months before FBI agents staged a predawn raid targeting Sandy Klimkowski's boss, former county Auditor Frank Russo, and others.
Klimkowski turned out to be one of those others – the conduit for more than a million dollars in bribes to Russo. She's also admitted to collecting $154,000 for herself – windows, siding, a deck, a TV – in return for steering school district business to contractors. She's even accused of helping to ship a mobile classroom to southern Ohio so it could be used as a hunting lodge by a crony.
Her cooperation with investigators means a prison sentence of 20 years or more will likely be closer to four. She's already forfeited nearly $52,000.
Still unresolved is how much she'll have to pay in restitution for the damage she did to the Maple Heights schools. That's one reason Superintendent Keenan will be in court.
"The only thing I want the judge to know is, we hope she takes into consideration, strong consideration, the actions that were basically done against children. Other than that, we've moved on and we're here about helping the kids of Maple Heights."
A teacher's strike, rumblings and cuts

Keenan has been with the district for 10 years. He arrived after a two-month teachers' strike, filled with bitterness and -- it turned out -- well-placed suspicion.
"I think there (had been) some thoughts of things being done wrong, but nothing was able to be proven."
Then came the FBI raids in July of 2008, triggering "a lot of really just shock that some of these things would occur and that people would take advantage of the school district and children."
That pretty much spelled the end for new money for the district. In an already tough environment for any school issue in Ohio, Maple Heights voters trounced an income tax on the May 2011 ballot. And that meant layoffs and a lot of other cuts.
The cuts totaled $2.5 million. "Program, staff, transportation. Talking about the trust in the community -- you know I think if they would have had trust, maybe we would have had a better shot at passing (a new tax issue) and it wouldn't impact the kids the way it does. So there's auxiliary things that you can't say this situation we went through fully caused, but it had an impact on."
Rebuilding through building
Some of that trust has started to be rebuilt -- literally. Teachers, staff and administrators all agreed to pay freezes and to changes in health-care benefits.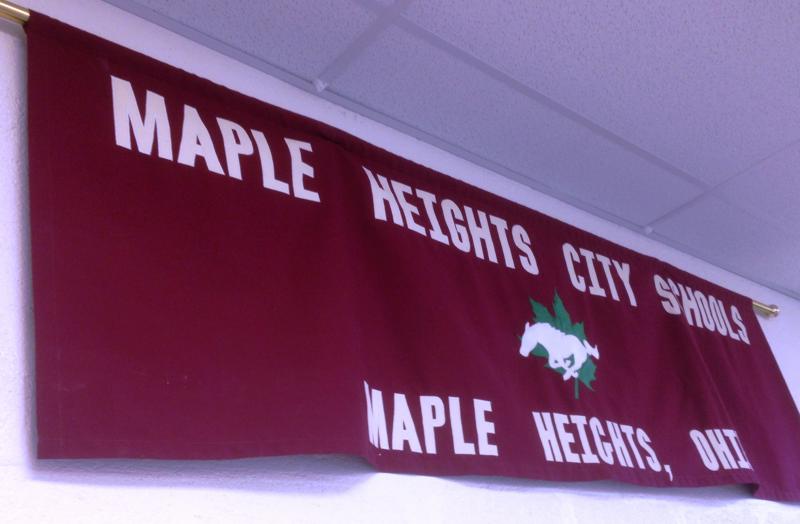 And then there are the new school buildings -- constructed on time and under the $110 million budget.
Keenan points to a mascot Mustange statue as we head into the high school – a gift last year from one of the school's classes. The high school is one of five new buildings that have replaced six old ones.
Keenan points to pictures of scholarship winners that line the front hall.
"We have a foundation that started a couple years back that gives scholarships to the kids. A brand new school store. A cafetorium. I wish I could show you what the old school looked like because it's just night and day."
How to spend the left-overs
On the other side of town, the three elementary schools – named at a student's suggestion for Presidents Lincoln, Kennedy and Obama – are broken down by two grades each and clustered around greenspace.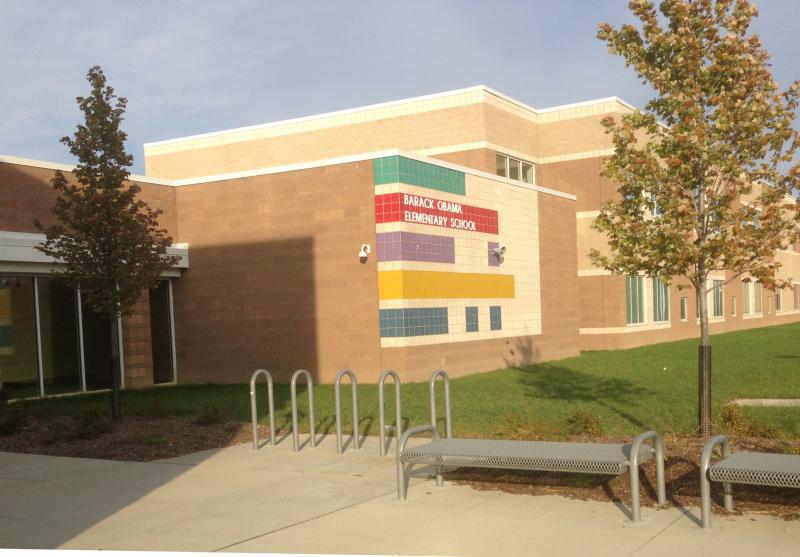 Two of them share a kitchen, but not cafeteria; a gym, but with a separation.
The extra money – which can only be spent on construction -- is going into a track and field.
"We're going to be finished up in the spring, and it will be the first home track meet that our kids will have run in 25 years," Keenan says.
Still a struggle
But, Maple Heights is still facing a tough financial time. Voters renewed a property tax levy last year. And when Treasurer Bob Applebaum (not the former treasurer who is now in prison) laid out five-year financial projections for the Maple Heights Board of Education this week, he wasn't overly optimistic.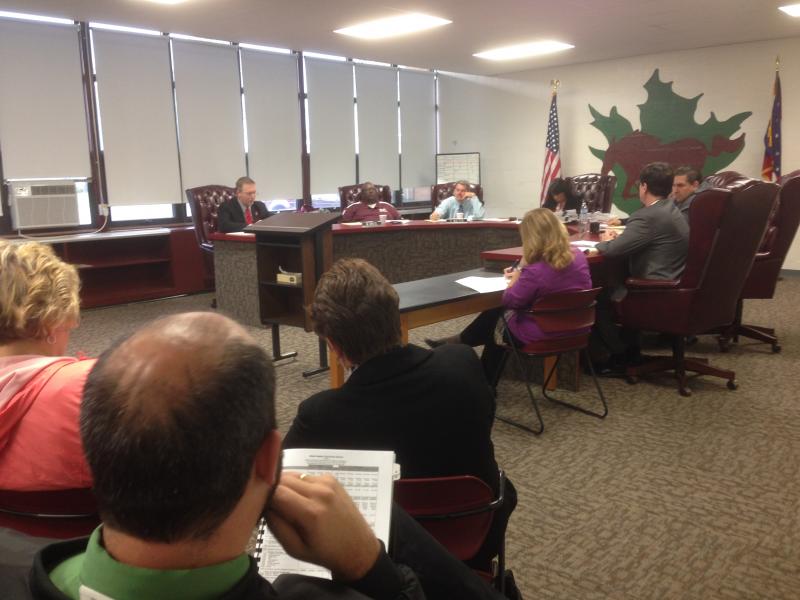 "It's pretty amazing that since 2010, we've cut our expenses by almost $4 million. Revenues on the other hand have decreased by $2.5 million. What it says is, I really think this board of education has done its responsibility in controlling the costs. I think where the real issue is, is a revenue problem."
Maple Heights is the third poorest district in Cuyahoga County. Foreclosures have hit hard, and transience is high. Kids are studying from textbooks bought in 2004. And some of the extra programs that had been envisioned for the new schools – including liaisons for the elementary schools and a CSI class for the high school -- have fallen away.
Hopeful signs and kids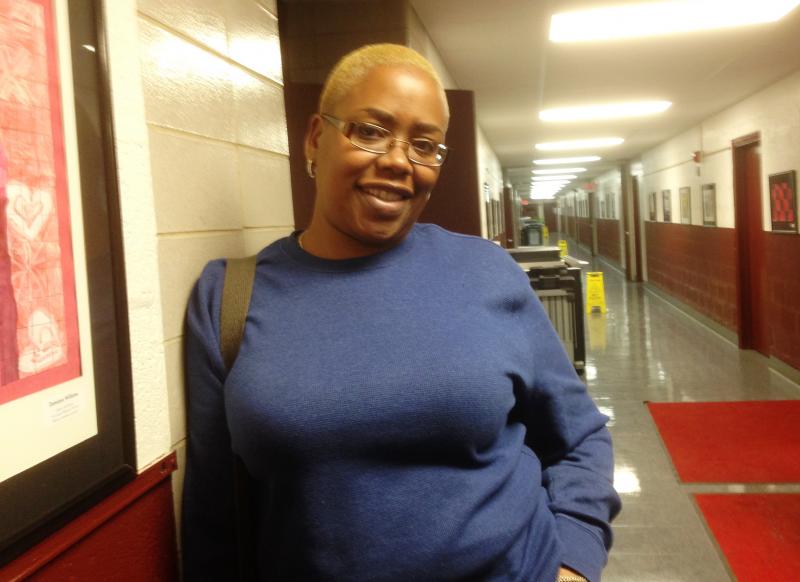 Still, parents like Pequita Hansberry, whose daughter is in eighth grade, say things are changing for the better; and that began even before the FBI raids in the summer of 2008.
"I was glad to see it come out. I was glad to see it dismantled and moved out of the system. I've been kind of watching Dr. Keenan. He's been great. The new schools board's been great. And then when that corruption came out, it was like, 'OK, now they can really move forward.'"
When Maple Heights built its new schools, the administration converted one of the old elementaries into its new headquarters. The move happened a year ago. But you wouldn't know it sitting stepping into Superintendent Keenan's office: very obviously an old classroom with barren concrete floors. Keenan says these days, the district focuses its money where it belongs: on students.
Here's the list of people with ties to Maple Heights schools and the Cuyahoga County corruption scandal:
Santina "Sandy" Klimkowski: Maple Heights school board member from 1981 to 2005 and assistant to former Cuyahoga County Auditor Frank Russo. Admitted to channeling more than $1 million in bribes to Russo, and to using school money for personal purchases and accepting home improvements and other kickbacks for helping contractors get Maple Heights school business. Expected to be sentenced to four years in prison after cooperating with prosecutors.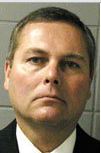 Christopher Krause: Maple Heights Schools treasurer from 1997; seen as the ringleader in the Maple Heights corruption. Admitted to taking more than $50,000 in cash bribes and other items including a John Deere tractor and a TV from contractors with the school system. Sentenced in 2010 to seven years in prison.
Louis C. Damiani: Maple Heights school attorney, who died in 2005. Helped engineer Krause's hiring, and alleged schemes included working with Klimkowski to get a school mobile classroom to serve as his hunting lodge in southern Ohio. Was implicated in bribes paid to Frank Russo and Klimkowski in exchange for appraisal contracts. His widow agreed to forfeit nearly $2 million after the scandal broke.
Giacinto Vaccarella: Former director of building and grounds at Maple Heights schools, pleaded guilty to bribery and conspiracy. Admitted to getting some of the proceeds from the sale of a school-district construction jack. Sentenced to 18 months.
Steven Canepa: Former manager of business affairs, pleaded guilty to mail and honest services fraud and theft. Sentenced to a year and a day.
Rocky Laurie: Former food service director, admitted to misusing school accounts and credit cards .Sentenced to six months in prison and ordered to repay $42,528.50.
The corruption scandal also led to charges and guilty pleas from contractors.
Klimkowski's defense:

Sandy Klimkowski is to be sentenced this afternoon in U.S. District in Akron for her role in the Cuyahoga County corruption scandal. This comes four years after the former Maple Heights school board member and aide to then-Cuyahoga Auditor Frank Russo first pleaded guilty to bribery and other charges.
Other options:

Windows Media
/

MP3 Download
(1:19)
The 61-year-old Klimkowski has pleaded guilty to federal charges that could mean a prison sentence of 20 years or more. But, because of her cooperation with investigators, she's expected to get far less than that.
Her lawyer suggests how much less in a memorandum filed last week with U.S. District Judge Sarah Lioi. He argues she should get less than two years and that her time should be served at the minimum-security women's prison in West Virginia where Martha Stewart served her time.
Klimkowski has admitted she was the conduit for more than a million dollars in bribes from contractors to Russo. She also accepted bribes in exchange for contracts with Maple Heights schools – among the poorest in Cuyahoga County.
But the memo cites her age, history and remorse as mitigating factors.
It also balks at the claim from Maple Heights schools that she owes the schools nearly $216,000 in restitution.
She's already paid nearly $150,000 in restitution to the county, and had to cash out part of her public pension to do it, and her lawyer says the school district has inflated the value of siding, a deck and other bribes she accepted.
Klimkowski was a key witness is building the bribery case against Russo, who in turn became a witness against former Cuyahoga Commissioner Jimmy Dimora. Both were convicted and are spending decades in prison.
The memo also says Klimkowski deserves a shorter sentence because she has medical problems and she cares for her ailing 86-year-old father.