Loading...


Economy and Business



Wednesday, October 23, 2013




The Shoppes at Parma gets $2 million from Cuyahoga County




Former Parmatown Mall is undergoing $56 million revamp, and the county cites it as the best option for 85,000 residents


by WKSU's KABIR BHATIA


Reporter
Kabir Bhatia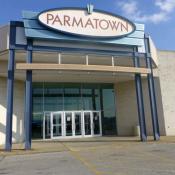 Parmatown Mall's last remodeling was about 15 years ago. Since then, the loss of anchor Macy's has put the shopping center at around 50 percent occupancy. But new owner Philips Edicson Co. of Cincinnati bought the mall in October, 2012 and has already started updating the site, and remaining anchor JCPenney renewed its lease in June.
Courtesy of Flickr user Fan of Retail
Download (WKSU Only)
In The Region:
Cuyahoga County is pledging $2 million to revamp Parmatown Mall. The new "Shoppes at Parma" will be the latest attempt to breathe life into the 57-year-old complex. WKSU's Kabir Bhatia reports.
A year ago, Cincinnati-based Phillips Edison Company bought the mall, which has seen declining occupancy in the past decade. The company is now updating lights, parking lots and sidewalks as part of $56 million in improvements that need to be made by 2017 as part of a deal with Parma City Council.
Cuyahoga County Deputy Chief of Staff Nate Kelly says the county's $2 million will be money well-spent given Parmatown is in a "mall desert."
"If you draw a radius of about 3 miles around that site, you find about 85,000 residents. So I think that is one of the primary targets. There probably isn't much competition within 3 miles."
Kelley says the project will add about 600 construction jobs to the area, and will also bring two nearby medical buildings up-to-date.
Parmatown lost one of its two anchors in 2012, when Macy's closed its doors. The mall is about half-full now and the remaining anchor, JCPenney, renewed its lease in June.
For more photos of Parmatown through the years, click here.
---
---
---
Stories with Recent Comments