Avondale is a leafy, comfortable suburb on Canton's northwest side.
It's also the headquarters of the U.S. International Procurement Agency, ensconced in a one-story office strip where you might expect to find an insurance agency, dental clinic and financial services group.
Tamara Burnett is program manager of one of the organization's two main divisions. "You know, quite a few people over the years have been walking in Avondale and just popped in and said, 'Well, what is procurement, and what do you do here?' And we try to simplify it for them and say, 'We're just a purchasing agency that can get anything you need where you need it, and we're mostly in Africa.'"
From IT to buckets
IPA, as it is known, is a contractor to federal agencies and to non-profits that provide humanitarian relief around the world. Marketing head Baily Meeker
says the agency, which is a private company, began as an offshoot of a Dutch firm that supports aid workers. But, it has evolved into more than an emergency supplier for first responders.

"We continue with ongoing project support. So initially, it would be after an emergency we would send tents, and buckets, and hygiene supplies. And as humanitarian aid organizations begin to set up camp, what we are sending over is often IT and ongoing project support."
Why Canton?
Burnett says it's because of US-IPA's now semi-retired founder, Michael Ridenhour. He was an aid worker in Africa the early 1990's and came back to the United States to create a logistical company to help relief agencies get what they need in tough parts of the world. He grew up in Ohio and wanted to work here. And, Canton had the right combination of an affordable location and available resources for the business.
The operation he created includes 3,000 square feet of storage and staging rooms, where goods for specific projects are handpicked and packed. Baily Meeker explains: "We consolidate everything.
We want to make sure that everything our clients have ordered is included. Because if something is missing, they can't use what they need, and that has a direct effect on their project. We want to make sure that everything is running smoothly so that they can help the people who so desperately need it.

Down a long hallway
Walking through the first staging area there are pallets of portable printers, small fans and bicycle parts. Baily Meeker is giving the tour.

"…And here you can see some of the warehouse equipment and pieces of the crates in various stages that get assembled out there. And here is our conference room that we did not sit in because it has been turned into what we affectionately call the 'library.'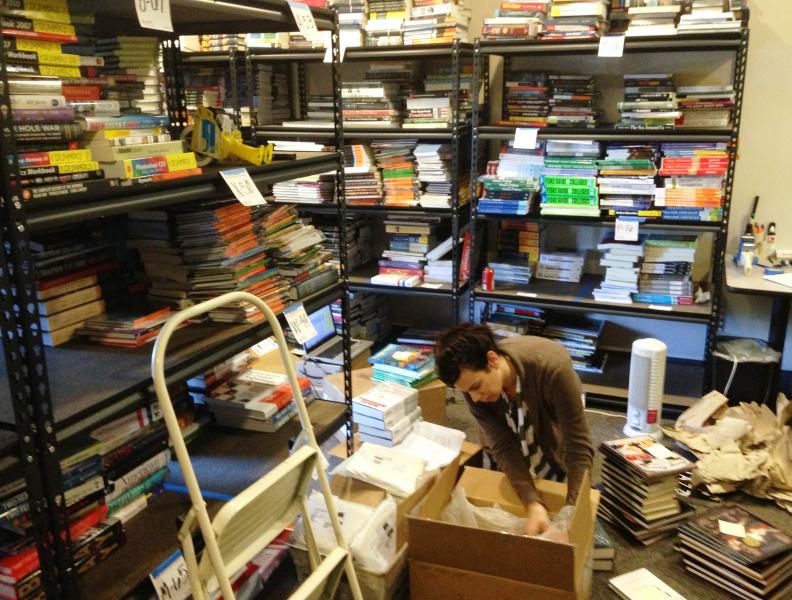 And so all of these books get ordered and compiled here and sent to American embassies for what is known as their office of American spaces, and they do education all over the world."

Another reason for Canton
Down another hallway is the office of Eric Miller, a project manager. Like most of the staff, Eric is local. Baily Meeker say the number of colleges and universities within an hour's drive of Canton make it a good location for recruiting and developing staff. And Miller, who just got back from visiting a project site in Africa, says there is another plus to operating from northeast Ohio.

He travels to project sites around the world. "In the case of Zambia or China, there's 24 hours travel and then back. We fly out of Akron Canton to some international airport and then overseas from there. It right up the road and there's never a wait getting through security. It's nice."

Serving both government and private clients
The U.S. International Procurement Agency serves all 70 Peace Corps locations around the world, U.S. State Department aid projects and a host of the world's most active non-profit relief agencies. Although the full-time staff is only about 20 people — not counting contractors and sub-contractors — and IPA is virtually unknown in its home town, Baily Meeker says it is a significant name in the international-aid community. "If you were to go out and try to find another company that does exactly what we do, you'd have to look long and hard."

IPA currently has about a dozen projects running out of Canton, with some, like supporting the relief effort in Haiti, on-going for years