Loading...


Government and Politics



Friday, October 25, 2013




Ohio's Medicaid expansion reaches women in need




Gov. John Kasich says the expansion will allow more Ohio women to get cancer screenings




by WKSU's STATEHOUSE CORRESPONDENT JO INGLES



Reporter
Jo Ingles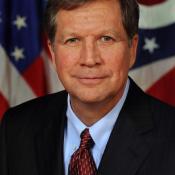 Gov. John Kasich believes the Medicaid expansion will help poor women, who were previously not able to afford cancer screenings.
Courtesy of WKSU
Download (WKSU Only)
In The Region:
Ohio Gov. John Kasich says more Ohio women will be able to take advantage of cancer screenings because of Medicaid expansion.
"This is something we need to do, and we need to do effectively. Now we have these poor women who are not able to get the screening because they don't have the money. If they show up and they get care, then they've got some bill collector chasing them so they'd rather just not do it. Medicaid expansion is going to help them."
Kasich has signed a bill into law that will allow Ohioans to donate a dollar on their tax returns to go to efforts to prevent breast cancer. And he says the state will do a three-to-one match on that money up to a million dollars.
---
---
---
Stories with Recent Comments