Loading...


Health and Medicine



Monday, October 28, 2013




Cleveland Clinic touts classroom guidelines for post-concussion student athletes




New regulations to help students return to learning after a head injury


by WKSU's KABIR BHATIA


Reporter
Kabir Bhatia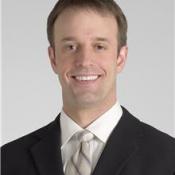 Dr. Rick Figler says football players make up about half the student athletes he sees with concussions.
Courtesy of Cleveland Clinic
Download (WKSU Only)
In The Region:
The American Academy of Pediatrics has released new standards for how to transition student-athletes back into the classroom after suffering a concussion. The move comes as everyone from parents to former NFL players are expressing concern about the long-term effects of sports injuries. WKSU's Kabir Bhatia spoke with Dr. Rick Figler, a concussion expert at the Cleveland Clinic.
Ohio enacted a law this year setting out guidelines on how schools should handle a child's return to play after a concussion.

Coaches are required to keep the kids out for at least 24 hours, and a physician's approval is needed to come back.

Now, new pediatric guidelines suggest what schools should do to aid learning for a student with a brain injury.

Dr. Rick Figler, in the Cleveland Clinic's sports medicine department, says "These are student athletes, emphasis on the 'student.' And we want to make sure that they can return to learn first before they can return to play."

Figler points out that students need time for their brains to heal without interruption, and recommends students take it slow. That includes postponing tests, and shortening study sessions. He says about half of all concussion cases he sees involved football players.

He adds that concussion research is ongoing, and cites one new area for attention: gender differences. Figler says, when comparing young men with women in the same sport, girls are more likely to get concussions, but there is no consensus on why.

---
---
---
Stories with Recent Comments