Loading...


Economy and Business



Wednesday, October 30, 2013




Nestles shifts 250 jobs, nearly $22 million in payroll to NE Ohio




Ohio Job Creation tax credits are part of the deal




Story by

BRIAN BULL AND M.L. SCHULTZE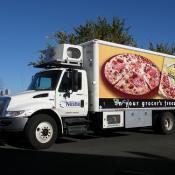 Nestle's pizza division is moving to Northeast Ohio
Courtesy of Some rights reserved by fdenardo1
Download (WKSU Only)
In The Region:
Food giant Nestle USA is shifting its pizza division from Illinois to northeast Ohio, and 250 jobs will be coming to Solon with it. The announcement follows approval by the Ohio Tax Credit Authority of a 65-percent job-creation credit for 10 years. Solon's economic development manager, Peggy Weil Dorfman, says the move will generate nearly $22 million in additional annual payroll. She says it also will bring the number of full-time jobs in Solon to 24,000, up from 23,000 six years ago.
"We are always happy to work with Nestlé. They have been excellent citizens of the City of Solon for many years, going back to the 1960s. And we are very happy that Nestle continues to grow its presence and commitment to the city of Solon and the state of Ohio."
Nestle's pizza line includes the DiGiorno and California Pizza Kitchen brands. Last year, the company moved its Hot Pockets division – and its 70 jobs -- from Colorado to Solon. And Nestles says it's investing $53 million to develop a local research facility for frozen food production.
---
---
Stories with Recent Comments