Loading...


Government and Politics



Friday, November 1, 2013




Congresswoman Marcia Fudge hears from Akron about Obamacare and immigration




Constituents are also concerned about a potential expansion of the state's "Stand Your Ground" laws


by WKSU's KABIR BHATIA


Reporter
Kabir Bhatia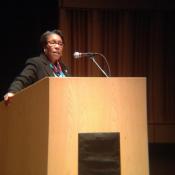 Fudges' constituents were also concerned about a potential expansion of the state's "Stand Your Ground" laws
Courtesy of K. Bhatia
Download (WKSU Only)
In The Region:
In the past few months, Congresswoman Marcia Fudge has heard from constituents about everything from guns to immigration. But one concern is suddenly getting a lot more attention: glitches in the Affordable Care Act website. WKSU's Kabir Bhatia reports.
The redrawn 11th is an F-shaped congressional district that occupies a big chunk of Cuyahoga County, and then narrows down through the national park and into Summit County. It includes everything from East Cleveland to suburban Broadview Heights and Seven Hills, to downtown Akron, where Fudge held a town hall at the Akron Public Library Thursday.

The three-term Democrat and president of the Congressional Black Caucus, has an office nearby, something Mexie Wilson appreciates.

"The person she has there used to be on the school board and knows the community. So her having someone who is directly connected to the community to be her representative, already has shown me more than Betty Sutton ever did."

Democrat Sutton represented Akron in Washington for six years, before Ohio Republicans redrew the boundaries, carved up the city and Sutton lost her race for the new district.

Her opponent, Jim Renacci, pounded hard in the election on Sutton's support for the Affordable Care Act.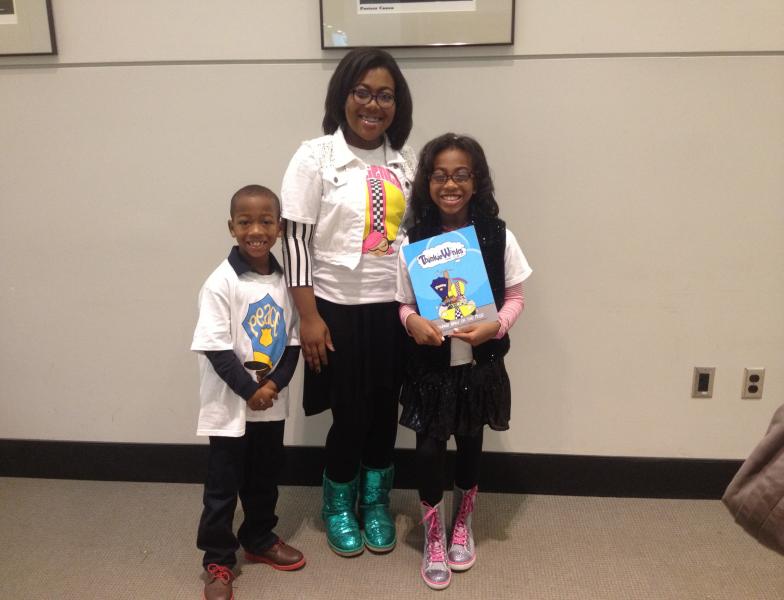 And most of the people at the town hall had questions for Fudge about Obamacare, which she, too, supports. Specifically, they wanted to know whether the glitches in the website will create another obstacle to expanding the program to low-income Ohioans.

Denise Woods from Bath says the government needs to do a better job of publicizing the healthcare navigators and other non-internet options for signing up.

"We do have other places we can go. But it will difficult for people to go to those places if we don't know where those addresses are. And I know we have clinics and hospitals and facilities around the area, and I would like a list of that made available."

Fudge says Ohio should have created its own exchange instead of going with the federal one. But she's confident the bugs will be worked out by the end of this month.

About half of the people at the town hall were there supporting HOLA, an immigration reform advocacy group. They're troubled by the large number of raids in Northeast Ohio, but say congressional Republicans often say the immigration agents – known as ICE - are not under their purview. Fudge disagrees.

"We do not direct the agency, but we do have oversight over every single federal agency. We know for a fact that ICE has been more active under this president than they were under the last one."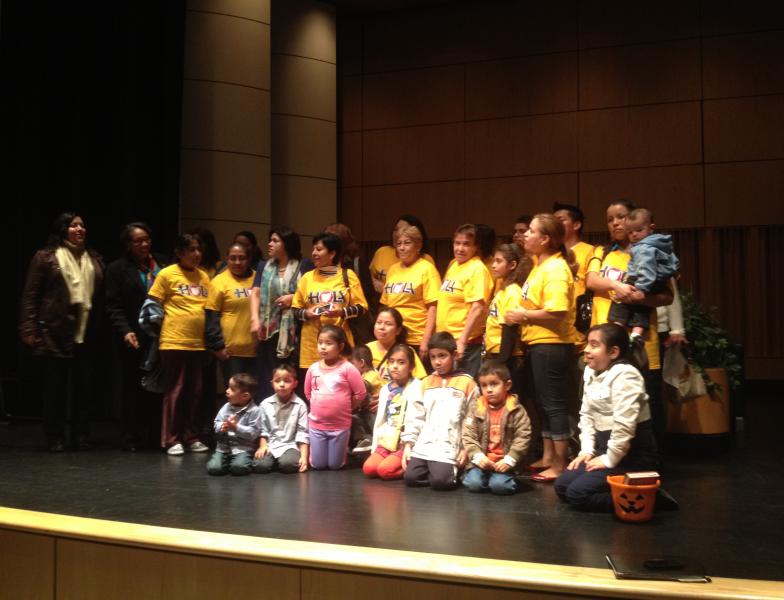 Already a supporter of immigration reform, she told HOLA Executive Director Veronica Dahlberg that she's going to do more.

"I was glad that the congresswoman said she would see if the President and administration can do more on the deportations. I'm going to be following up and looking into it. I do feel very strongly that more can be done. He is the president of the United States, after all."

Fudge was also asked about proposed changes to state stand-your-ground laws, including one in Ohio that would remove the requirement that someone retreat, rather than use deadly force.
On Monday, Fudge and the mother of Trayvon Martin, the unarmed teen killed under Florida's stand-your-ground provisions -- testified against such laws before a U.S. Senate subcommittee.

Fudge says she understands the need for self-defense, but she said stand-your-ground-type laws disproportionately hurt African-Americans.

"It is more detrimental than it is helpful. All data clearly shows that states with stand-your-ground have a higher incidence of homicide than those that do not. So if they'll just look at the data, I think they'll make the right decision."

Although Fudge can't technically do anything about a state law, her words were enough for Richard Thompson of Akron, who doesn't understand the proposed change.

"Two gangmembers get into a fight. One gangmember shoots the other. He says to the police, 'I felt threatened so I had to shoot him.' So the dead guy has no one to speak for him. So basically, the dead guy has to prove that the guy who killed him is guilty."

Proponents of stand-your-ground argue it will allow stalking victims to better protect themselves. They also say Ohio's bill has more safeguards built into it than the law in Florida, where Trayvon Martin was killed.
---
---
---
Stories with Recent Comments