Loading...


Government and Politics



Monday, November 4, 2013




NE Ohio residents are unhappy with forced flood insurance




FEMA took over as the sole source of flood insurance when private companies began shying away from the business


by WKSU's TIM RUDELL


Reporter
Tim Rudell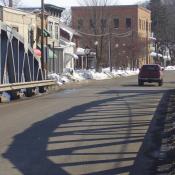 Bridge over Sandy Creek in downtown Malvern in 2010...the same year FEMA conducted its latest elevation survey
Courtesy of TPR
Download (WKSU Only)
In The Region:
If you live in a designated flood plain and have a mortgage, the federal government says you have to have flood insurance, and you have to buy it from them.
The Federal Emergency Management Agency, or FEMA, scans the nation's landscape for low areas that could be flood-prone. When it finds them, it requires property owners there to carry federal flood insurance. The aim is to deal with the financial impact of flooding in a managed way. Such a survey in 2010 put part of the Carroll County village of Malvern in a "flood plain."

But, some residents balked, believing the "map" to be wrong. Village Solicitor Vincent Slabaugh says areas of Malvern now included in the flood plain are higher ground that has not flooded in anyone's memory. They're also beside a remnant of the 19th century canal system so when high water comes that way, it has a quick runoff.

Review by FEMA
FEMA has an appeal process, but it's difficult for individuals to come up with the technical information for that. So, local government has stepped in.

"The village undertook to hire an engineering firm to do an elevation study where the home owner could use that to submit with an appeal to FEMA to take their property out of the flood plain."
About 20 residents of the nearby Stark County city of Louisville also have concerns from a FEMA survey done there in 2011. FEMA flood insurance typically costs a few hundred to a few thousand dollars a year.
---
---
---
Stories with Recent Comments