Loading...



From WKYC.COM / TV 3
Get the latest school closings and delays


Funding for WKSU is made possible in part through support from the following businesses and organizations.
---
For more information on how your company or organization can support WKSU, download the WKSU Media Kit.

(WKSU Media Kit


)
---

Government and Politics



Wednesday, November 6, 2013




Ohio Supreme Court throws Stark County sheriff out of office




State high court says he lacks the qualifications for the job


by WKSU's M.L. SCHULTZE


Web Editor
M.L. Schultze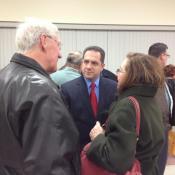 George Maier at a meeting of hundreds of Stark County Democrats who picked him despite qualification questions.
Courtesy of M.L. Schultze
Download (WKSU Only)
In The Region:
Stark County's old sheriff is the new sheriff, thanks to a 5-2 decision by the Ohio Supreme Court today. The county's Democratic executive committee appointed George Maier sheriff in February. The vote was hotly contested amid claims that Maier didn't have the education and experience to meet the qualifications of the job. Former Sheriff Tim Swanson was among those challenging the appointment, and took the case to court. Now Swanson will be reappointed. The job opened up when Sheriff-elect Michael McDonald died. The party vote was a close one between Maier and Sheriff's Lt. Louis Darrow. Republican Lawrence Dordea got one vote.
---
---