Loading...



From WKYC.COM / TV 3
Get the latest school closings and delays


Funding for WKSU is made possible in part through support from the following businesses and organizations.
---
For more information on how your company or organization can support WKSU, download the WKSU Media Kit.

(WKSU Media Kit


)
---

Economy and Business



Thursday, November 7, 2013




Schwebel's Cuyahoga Falls facility will close in 2014




Most of the 140 employees will have the opportunity to move to the Solon facility




Story by

KELSEY LEYVA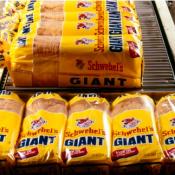 Schwebel Baking Company has decided to close its Cuyahoga Falls plant and transfer most of its employees to the Solon facility.
Courtesy of Schwebel Baking Company
Download (WKSU Only)
In The Region:
The smell of baking bread could be a thing of the past in Cuyahoga Falls. Schwebel Baking Company plans to close its plant along Route 8 sometime next year. The Youngstown-based company is upgrading its Solon facility and HR director Bruce Gluski says most of the roughly 140 employees in Cuyahoga Falls will be able to transfer there.
"Employers do make decision all the time in terms of plant upgrades and so forth and it's regrettable that some people might have to drive a little bit further, but we're pleased that we're able to offer a transfer to most of the employees."
Gluski says the union that represents the bakery workers will provide severance pay to those who decide not to transfer.
Page Options

Print this page

E-Mail this page / Send mp3

Share on Facebook
---
---
Stories with Recent Comments