Loading...



From WKYC.COM / TV 3
Get the latest school closings and delays


Funding for WKSU is made possible in part through support from the following businesses and organizations.
---
For more information on how your company or organization can support WKSU, download the WKSU Media Kit.

(WKSU Media Kit


)
---

Courts and Crime



Tuesday, November 12, 2013




No witnesses for the defense in $100 million charity scam trial




Bobby Thompson was set to testify in his own defense in Navy Veterans Association case in Cleveland




Story by

M.L. SCHULTZE AND KEVIN NIEDERMIER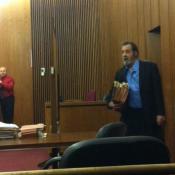 Bobby Thompson had appeared in court this morning in an unbuttoned white shirt, his hair askew. He changed the shirt -- and his mind about testifying.
Courtesy of KEVIN NIEDERMIER
Download (WKSU Only)
In The Region:
The $100 million fraud case against Bobby Thompson is ending – with no witnesses taking the stand for the defense. Thompson had been expected to testify this morning in Cuyahoga County Common Pleas Court. But after hours of delay – during which Thompson appeared in court mumbling and disheveled, with his shirt unbuttoned – his lawyer told the judge he would not be taking the stand. Cuyahoga County prosecutors and those in other states say Thompson is really John Donald Cody. He's accused of stealing more than a million dollars from people who donated to his U.S. Navy Veterans Association. Thompson was arrested in April 2012, after a two-year search for him. He then signed all court papers with an "X" and officials were not able to identify him as Cody until nearly six months later. His defense lawyer has intimated he was working undercover for the CIA during years he was running the charity.
Page Options

Print this page

E-Mail this page / Send mp3

Share on Facebook
---
---
Stories with Recent Comments