Loading...


Sports



Wednesday, November 13, 2013




Browns promise fans a louder, flashier football experience




FirstEnergy stadium will have an enhanced sound system and massive video screens as part of a two year upgrade, but the club isn't saying how much it will cost the public


by WKSU's JEFF ST. CLAIR


Reporter / Host
Jeff St. Clair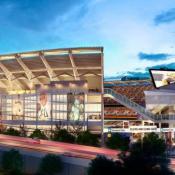 FirstEnergy Stadium will undergo a $120 million facelift as part of a renovation plan detailed today in Cleveland. The Browns want fans to have a louder, flashier football experience at the 15 year-old stadium.
Courtesy of Cleveland Browns
Download (WKSU Only)
In The Region:
The Cleveland Browns have unveiled plans for upgrades to FirstEnergy Stadium but are not saying how much it might cost the city of Cleveland. In an event before fans and media today, Browns owner Jimmy Haslam, CEO Joe Banner, and team President Alec Scheiner focused on how an enhanced sound system and massive new video screens will provide a louder and flashier football experience. But Banner would not say how much of the $120 million price tag he expects the city to share.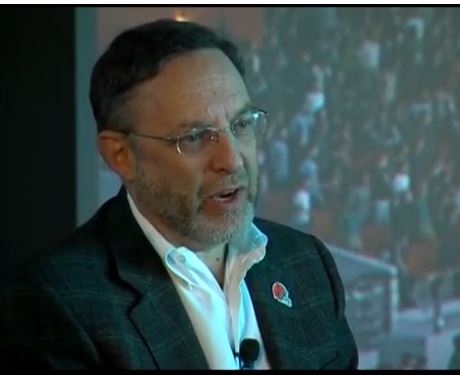 "We start with the public side of the process which will include meeting with the mayor and city council, tomorrow we make a presentation in front of the planning commission committee and we'll work through that. I think it would be unfair of the process to get into any of the details, but I think that will come to a head pretty quickly and we'll be completely open and anxious to get back in front of you and walk through those details."
Upgrades also include two additional escalators, new seats closer to the field, and improved cell-phone coverage.
The Browns secured a $62.5 million loan last month from the NFL.
---
---
---
Stories with Recent Comments