Loading...


Environment



Wednesday, November 13, 2013




Ohio sets new goals to reduce farm runoff




Massive algae blooms threaten the health of Lake Erie and other Ohio water bodies, environmental efforts now focus of reducing phosphorus pollution




by WKSU's AMY COOKNICK



Reporter
Amy Cooknick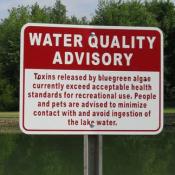 Toxic blue-green algae feeds on excess nutrients such as phosphorus that flow off farm fields and into Lake Erie. Environmental officials have set new targets to reduce phosphorus levels by 40 percent.
Courtesy of ODNR
Download (WKSU Only)
In The Region:
State environmental officials today announced new targets for reducing pollutants feeding toxic algae blooms in Lake Erie. The Ohio Lake Erie Phosphorus Task Force is setting goals to reduce levels of phosphorous by 40 percent in rivers and streams draining into the lake. The new target levels include guidelines for Ohio farmers to track their progress in reducing phosphorous runoff. Runoff from farm fertilizer and sewage feeds blue-green algae whose toxins can contaminate drinking water. Terry McClure, farmer and secretary of the Ohio Soybean Council, says the report provides clear action plans for farmers to reduce phosphorous waste.
"From my perspective, it came to light that there's probably not a silver bullet. This is going to be many changes over many of our systems that can culminate as a lowering of phosphate coming into Lake Erie. We've got a lot of work ahead of us, whether it's informing and understanding, but it's obvious that we can make these changes."


The group also hopes to expand its plan into Indiana and Michigan because runoff from those states also drains into Lake Erie.
---
---
---
Stories with Recent Comments