Loading...


Courts and Crime



Thursday, November 14, 2013




Cleveland jury convicts "Bobby Thompson" on all counts in charity swindle




Head of charity and big GOP donor is expected to appeal


by WKSU's KEVIN NIEDERMIER


Reporter
Kevin Niedermier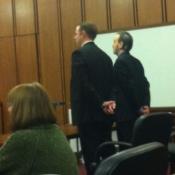 Thompson stands with his attorney to hear the verdict.
Courtesy of KEVIN NIEDERMIER
Download (WKSU Only)
In The Region:
A Cleveland jury has found Bobby Thompson guilty on all charges for running a fake Navy veteran's charity and siphoning off $100 million.

After about three-hours of deliberations on Wednesday, the jury's verdict was announced this morning. Thompson was convicted on all 23 counts including money laundering, identity fraud, theft and record tampering. Thompson, a Harvard-trained attorney who's real name is John Cody, was defending himself in the beginning of the trial. But about a month ago, attorney Joseph Patituce took over the defense. After the verdict, Patituce said it was hard to build a defense in that length of time.
In 2001, Thompson started the U.S. Navy Veterans Association, and collected as much as $100 million from donors in Ohio and 40 other states.
He disappeared in 2010, but was captured last year in Oregon. The 67-year-old is facing up to 80 years in prison. He is expected to appeal.
Patituce has asked for a psychological evaluation of Thompson before he is sentenced Dec. 16.
---
---
---
Stories with Recent Comments