Loading...


Economy and Business



Thursday, November 14, 2013




Akron Mayor Plusquellic says Akron's Lockheed Martin facility was a profit center




Cites $17 million in public investment, and a union contract, as reasons it was the "most competitive" Lockheed facility in the U.S.


by WKSU's KABIR BHATIA


Reporter
Kabir Bhatia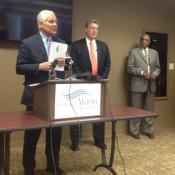 Akron Mayor Don Plusquellic (left) blames the Congress for sequestration and the Defense Department cuts that doomed the Akron Lockheed Martin facility. County Executive Russ Pry (center) and John Harrington from Congresswoman Marcia Fudge's office both say they are already looking for ways to help the 500 employees facing lay off.
Courtesy of KABIR BHATIA
Download (WKSU Only)
In The Region:
The closure of Lockheed Martin's Akron facility is being met with harsh words from Akron Mayor Don Plusquellic, as he and other city officials try to look ahead and find ways to help the more than 500 employees who will lose their jobs. WKSU's Kabir Bhatia reports.

Mayor Plusquellic says the city had no advance notice that Akron's Lockheed Martin mission systems facility is closing. About 70 employees will be retained for work on blimps at the Airdock. The remaining 500 are among 4,000 Lockheed employees across the country affected by the cuts Lockheed announced today. The company says half face lay offs and half will receive transfer offers.

Lockheed blames the closures on defense department cutbacks related to sequestration. That doesn't sit well in Akron with Mayor Plusquellic, who notes the public has invested about $17 million at the site.

"If you look at the package the state, city and county have provided, they were making, in the words of the former director of this facility, 'The most competitive U.S. plant of all of the Lockheed Martin plants.' This was a profit center."

Lockheed has a 20-year lease on the Airdock, which is owned by the Summit County Port Authority. Trying to put some kind of positive spin on the situation, Plusquellic says the city has already been contacted by developers who want to help fill the soon-to-be-vacant buildings.
---
---
---
Stories with Recent Comments