"One of the questions is how they might have singled out a place like Lakewood, Cleveland Heights or Euclid, and one thing that comes to mind is: We are all increasingly multicultural communities," Summers said. "We happen to all consider that to be a strength. My guess is the French don't."
Euclid Mayor Bill Cervenik invited the French Ministry to visit his city and see what it's about.
Other options:

Windows Media
/

MP3 Download
(0:14)
"We can have a little fun with it, we can all learn from it," Cervenik said.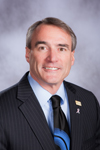 "I think what it ended up doing was causing a little more awareness as to how great the city of Euclid, Lakewood and Cleveland Heights are and what they mean to this whole region."
Cervenik said he is proud of the people from Cleveland and the surrounding communities for sticking up for the cities and expressing how great they are.
The French Ministry has now removed the three Cleveland suburbs from the list.