Loading...


Government and Politics



Monday, November 18, 2013




Cleveland councilman loves Browns, but not price tag for stadium upgrades




Mike Polensek says taxpayers shouldn't be asked to carry the burden of costly upgrades to FirstEnergy Stadium




by WKSU's AMY COOKNICK



Reporter
Amy Cooknick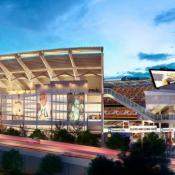 The Cleveland Browns this week unveiled plans for a $120 million renovation of 15 year-old FirstEnergy Stadium. The team is borrowing $62.5 million from the NFL, pitching in an unspecified amount, and perhaps asking the city to contribute the rest.
Courtesy of Cleveland Browns
Download (WKSU Only)
In The Region:
A Cleveland City Councilman is speaking out against a $120 million plan to upgrade FirstEnergy Stadium. Councilman Michael Polensek says, although he loves the team, he can't justify asking the citizens to bail out the Cleveland Browns. The team presented its plan Friday to the city's planning commission, which supports some upgrades, but asked to see the financing before voting on the project. The Browns are borrowing $62.5 million from the NFL, but Polensek says Cleveland taxpayers should not be asked to shoulder the rest of the burden.
"I guess it's like this: If they're willing to borrow money from the NFL, why not borrow money from us? Why do we have to give them money? The NFL's not giving them any money. The NFL's loaning it to them. Why should we be any different from the NFL? I mean, where's the economic justice in that?"
Polensek says it's unclear when the city will vote on the team's proposal. He says council is waiting for Mayor Frank Jackson's office to submit details of financial plans for the renovations.
---
---
---
Stories with Recent Comments