Loading...


Courts and Crime



Tuesday, November 19, 2013




Cuyahoga County creates a central site for missing persons searches




New website helps coordinate searches for missing persons across Cuyahoga County's 59 municipalities


by WKSU's JEFF ST. CLAIR


Reporter / Host
Jeff St. Clair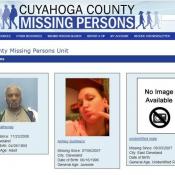 The new website, missingpersonscuyahoga.org, allows citizens to post tips, and search for loved-ones gone missing. The site was unveiled Monday, ahead of schedule, according to Sheriff Frank Bova.
Courtesy of Cuyahoga County Sheriff
Download (WKSU Only)
In The Region:
Cuyahoga County has unveiled a new website to enlist public help in finding missing persons. The sheriff's office also has created a new unit to coordinate information about people who are missing. The website, 'missing persons Cuyahoga dot org', allows citizens to post information about loved-ones, or to search for details about investigations. Sheriff Frank Bova says the website helps coordinate searches beyond Cleveland.
"What we're trying to just have a central repository for, not only citizens but also police officers to go to, because right now you'd have to call Berea, or call Euclid, (and ask) 'Hey, can we get information?' Now you just go to one site. It cleans it up for all 59 municipalities in Cuyahoga County."
Bova says the launch of the missing persons website has been in the works for a year, but was speeded up after the discovery six months ago of three women in the home of Ariel Castro.
---
---
---
Stories with Recent Comments