Loading...


Health and Medicine



Wednesday, November 20, 2013




Experts say ObamaCare means more healthcare employment




But jobs supporting healthcare delivery in administrative and planning roles will likely be expanding the most


by WKSU's TIM RUDELL


Reporter
Tim Rudell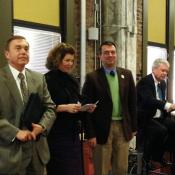 Burg Series panelists: (left to right) Martin Hauser; Beverly Bokovitz; Charles Taylor; and William Considine
Courtesy of TPR
Download (WKSU Only)
In The Region:
"Obama-care" and jobs was the topic Tuesday in Akron. The University of Akron's H. Peter Burg Speaker's Series assembled a panel of experts to talk about the effects of the "Affordable Care Act" on careers in health services. WKSU's Tim Rudell reports
One take away:
...pending changes in healthcare delivery will increase jobs more in areas that manage care than in areas that provide it.
The panel experts
...were: CEO's William Considine of Children's Hospital and Martin Hauser of SummaCare; Akron General Chief Nursing Officer Beverly Bokovitz; and Dean Charles Taylor of the NEOMED College of Pharmacy.
Each encouraged students to consider healthcare careers but said job skills in planning, communications, and coordination will be critical going forward.

Uncertainty
Asked if political complexities surrounding ObamaCare-- including possible repeal-- could mean going back to traditional operating, SummaCare's Martin Hauser answered for the group. "Well, first of all, the horse is out of the barn. It's going to be awful hard to bring it back. And even if we bring it back…this is the first step. It's not the final step and its not the end all and be all."
Building up
The panel agreed that the impetus for change in healthcare predates the Affordable Care Act. I'm Tim Rudell, 89-7, WKSU.
---
Related WKSU Stories

Congresswoman Marcia Fudge hears from Akron about Obamacare and immigration
Thursday, October 31, 2013

What Medicaid expansion would mean to working-poor Ohioans
Monday, October 21, 2013

High drama over Medicaid unfolds today in an obscure chamber of Ohio's Statehouse
Sunday, October 20, 2013

After an eight-month fight, Ohio Gov. Kasich gets expansion of Medicaid
Monday, October 21, 2013

Ohio Gov. Kasich pushes Medicaid expansion at the Cleveland Clinic on the eve of a key vote
Friday, October 18, 2013
---
---
---
Stories with Recent Comments