"Please donate food Items here so Associates in Need can enjoy Thanksgiving Dinner."
With those 13 words, the Canton Wal-Mart set off an international controversy.
For those who have long maintained Wal-Mart takes more than it gives to communities and employees, that sign – hung above plastic bins in the staff area -- could be read only one way.
"He's asking the poor to give to the poor."
That's Vanessa Ferreira, a 60-year-old woman who lost her job as a cake decorator at a Florida Wal-Mart for what the company called excessive breaks and what she says was an attempt to head off her workers' rights activism.
"We want our respect back, and we want our 40 hours and we want a living wage."
Learning to organize, learning to fish

Norma Mills also calling for a living wage.
"The key to me in a livable wage is that we want people to live, not just survive."
Mills is a Canton community organizer. She's struggling with substandard conditions at one of three housing projects within a half-mile or so of the Wal-Mart. She's worried about gangs, foreclosures, education and aimlessness. And there's not one of those issues she can't bring back to the lack of good paying jobs. She offers a different take on an old expression.
"We're a firm believer that if you give a man a fish, you feed him for a day, so what they're doing is feeding employees for a day based on the sweat equity and the resources from other poor people. But if you teach a man to organize, you feed him for a lifetime."
She points to studies like the one the Democratic staff of the House Committee on Education and the Workforce put out in May. It estimates a since single Wal-Mart in Wisconsin cost taxpayers anywhere from $900,000 to $1.7 million in healthcare and other public benefits
No good deed goes unpunished
But the Canton Wal-Mart employees – they're called associates – say they were simply trying to take care of their own and their employer is taking heat for a good deed they initiated.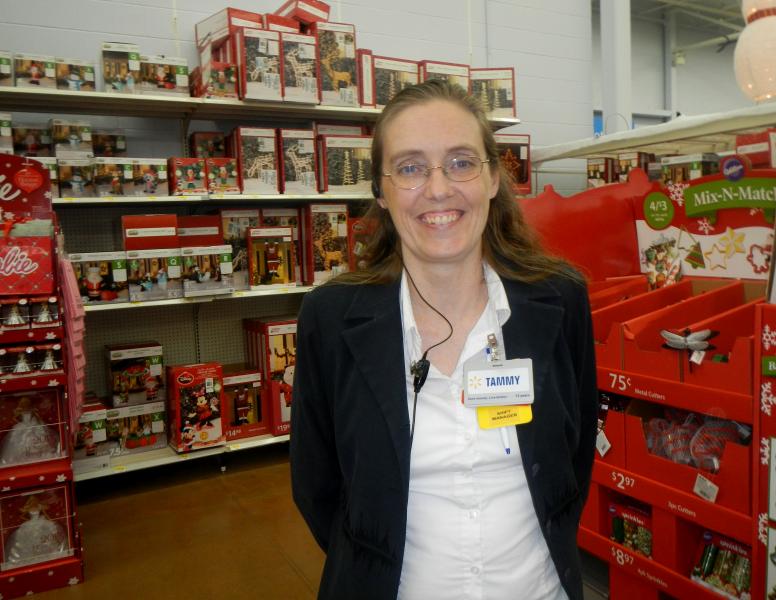 Tammy Seiler is a floor manager at the store, which replaced a crumbling plaza of largely abandoned retail space about a decade ago.
She says the workers are simply trying to take care of each other when a calamity hits, not to fill in for substandard wages.
"Our associates talk to each other on break, get to know each other outside of work. And they were discussing different things in their life. And we had some associates who were down on their luck, whose spouses had lost jobs or who had some medical bills come up. And they were struggling to make ends meet and to provide meals for their families for Thanksgiving. And our associates came to our personal manager and said, 'What can we do about this. Can we put up bins and collect food for our associates?'"
The sign first went up last year, and Seiler says no one objected then. But this year, a store employee contacted the Ferreira via the "Our Wal-Mart" Facebook, which supports unionizing efforts. And it all went viral. She says that besmirched the store, the workers and the corporation.
"Some of our associates are a little bit outraged at some of the stories that came out because they feel that this is good for us. This is what we do for our family."
Defining 'Good'
Jimmy Sisco has no direct part in the fight. He left Wal-Mart about four years ago, first to be a stay-at-home dad and now to be a self-employed gunsmith.
"It is a good place to work, I will say that. Wages could be a little higher, I will say that. But for the most part we were treated good."
But the critics of Wal-Mart say wages and hours are a part of being treated good. At Canton's City Council meeting Monday night, Council President Allen Schulman made the case for Canton to reconsider a minimum wage higher than the states $7.85 an hour – and he offered the Wal-Mart situation as a reason why.
That was the same day the National Labor Relations Board said Walmart illegally disciplined and fired employees nationally over strikes and protests. Wal-mart denies the accusations and dismisses the NLRB action as procedural.

Here's a version of the story that ran on NPR: http://www.npr.org/templates/story/story.php?storyId=246278990