Loading...


Sports



Wednesday, November 20, 2013




Cantonite and Pro Football Hall of Famer Dan Dierdorf retiring




GlenOak grad has spent 43 years on the gridiron and calling games


by WKSU's KABIR BHATIA


Reporter
Kabir Bhatia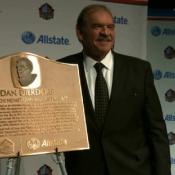 Dan Dierdorf graduated from what's now GlenOak High School; he returned there in 2012 for the unveiling of a plaque honoring him as part of the "Hometown Hall of Famers" series
Courtesy of Pro Football Hall of Fame
Download (WKSU Only)
In The Region:
Pro Football Hall of Famer -- and Canton native – Dan Dierdorf is retiring after a combined 43 years in the broadcast booth and on the gridiron. WKSU's Kabir Bhatia reports.
Dan Dierdorf was born in Canton and was there for the groundbreaking ceremony for the Pro Football Hall of Fame on Aug. 11, 1962. After graduating from what's now GlenOak High School, he played for the University of Michigan, and then the six-time Pro Bowler spent 13 seasons with the St. Louis Cardinals.

Football Hall of Fame Vice President Joe Horrigan says the Cardinals of the '70s and '80s are unfairly overlooked these days, due to the team's later move to Phoenix.

"They were really a very good football team and got great respect for offensive linemen. Dan was the cream-of-the-crop and was generally accepted, on that particular team, as the absolute anchor and leader of that offensive line."

Dierdorf remained in St. Louis after retiring in 1983, transitioning to the broadcast booth for "Monday Night Football" and then pro and college games on CBS. He returned to Northeast Ohio last year for the unveiling of a plaque at his high school.

"This is always home. It will always be home. I'm always proud to tell people that I was born and raised in Canton, Ohio. I was enshrined in the Hall of Fame in 1996.

"[In 1962] I really was standing there with my father. I was 13 years old. And we watched Pete Rozelle put a shovel in the ground, turn over a spade full of dirt [for] the symbolic groundbreaking of the Pro Football Hall of Fame.

"To think that one day that's where my bust stands and where it stays. You can't… you can't… some dreams… some dreams are just so huge, I gotta tell you, when I was 13 it never crossed my mind."

Dierdorf also received the hall's Pete Rozelle Radio-Television Award in 2008. The 64-year-old will be stepping down at the end of this season.
---
---
---
Stories with Recent Comments