Loading...


Arts and Entertainment




Thursday, November 21, 2013




Bratislava extends an invitation to the Cleveland Orchestra for 2015




Concert may be in the works to mark the centennial of the agreement signed in Cleveland that led to independence for Czechoslovakia


by WKSU's VIVIAN GOODMAN
This story is part of a special series.



Reporter
Vivian Goodman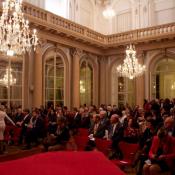 An audience of 100 guests attended a chamber concert by Cleveland Orchestra musicians in the Hall of Mirrors in Bratislava's Primatial Palace.
Courtesy of Zachary Duvall
Download (WKSU Only)
In The Region:
One result of the Cleveland Orchestra's current European tour could be a trip to Eastern Europe in about two years. WKSU's Vivian Goodman reports that the invitation has been extended because the Slovakian version of our Declaration of Independence was signed in Cleveland.
Bratislava in the Slovak Republic is Cleveland's sister city and the relationship may be about to be cemented in a musical way.

The ambassador to the Slovak Republic, Theodore Sedgwick, is a Clevelander and a big fan of the Cleveland Orchestra. His ancestor, Jeptha Wade, donated the land where Severance Hall now stands.

Since they were in the neighborhood, preparing for the final concerts of the European tour to take place this week at Vienna's famed Musikverein, Ambassador Sedgwick invited orchestra representatives, as well as a quartet of musicians, to his residence in Bratislava for a concert and a confab.

They sipped tea, munched hor d'oeuvres, toured the ambassador's collection of paintings by Cleveland artists and discussed the possibility of a concert in 2015 in Bratislava to commemorate the centennial of the agreement that led to freedom for Czechoslovakia.
---
Support for WKSU Coverage of the Cleveland Orchestra European Tour 2013 provided by:



---
---
---