Loading...



From WKYC.COM / TV 3
Get the latest school closings and delays


Funding for WKSU is made possible in part through support from the following businesses and organizations.
---
For more information on how your company or organization can support WKSU, download the WKSU Media Kit.

(WKSU Media Kit


)
---

Government and Politics



Thursday, November 21, 2013




Want to avoid traffic nightmares in Cleveland today? ODOT says take RTA




Innerbelt bridge closure is espected to snarl most major routes into the city




Story by

KELSEY LEYVA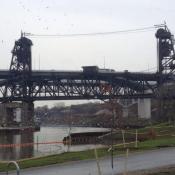 Work on the Innerbelt bridge has caused detours for years, but the transfer to the new bridge is expected to really snarl traffic tomorrow.
Courtesy of K. Bhatia
Download (WKSU Only)
In The Region:
Drivers in Cleveland can expect big delays Friday morning. The Ohio Department of Transportation shut down the Innerbelt Bridge and I-90 East between Interstate 490 and 77 at 9 this morning. It expects major traffic congestion to start as early as 6 a.m. Friday. ODOT's Jocelynn Clemings says the best way to avoid traffic is to use public transportation.
"Our No. 1 recommendation during this closure and particularly for the Friday morning rush is to ride RTA. We have a really great public transit here in Cleveland, so we strongly suggest that folks take advantage of that."
RTA plans to provide additional buses and add a third car to many Rapid trains to accommodate the extra commuters.
The new George V. Voinovich Innerbelt Bridge is expected to be open before rush hour Monday morning.


Page Options

Print this page

E-Mail this page / Send mp3

Share on Facebook
---
---
Stories with Recent Comments