Jim Stoner first learned about Charles Follis when he was president of the Shelby, Ohio, Chamber of Commerce.
"I was working in Shelby and walked into the Shelby Museum and here's this photograph of the Shelby Blues in 1902. And here's a black man, featured prominently in the center, holding the championship ball."
That young black man was Charles Follis. He was 6 feet tall and weighed 200 pounds. The media of the day dubbed him "The Black Cyclone." He had been recruited by Shelby entrepreneur Frank Schieffer. Schieffer managed the local football team that later became the Blues.
"Frank somewhere along the way decided that he didn't really care what somebody looked like, he didn't care what their racial background was, he wanted to win. And that was what was driving him when he signed Charles."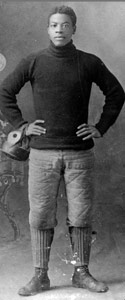 Predating the NFL
That was in 1902. Somewhere during his four years in Shelby, Follis signed a contract that guaranteed him $10 a game. That contract made Follis the first black professional football player. Even though it was pre-NFL, the achievement is noted at the Pro Football Hall of Fame in Canton. This is an excerpt from the television series "NFL Films Presents:"
"Back when we decided we were going to create the Road to Equality display, one burning question remained: Who was the first African-American to play professional football? And who was the gentleman in this photo?"
"Sometimes there are pioneers who are nearly lost in history."
A hero to some, unknown to many
"I was probably 4 or 5 years old and my parents happened to mention to me, 'Oh, you had a great uncle who was an awesome football player. He was a hero to us. But to the rest of the world he was just an unknown.'"
Jim Stoner says Follis's great athletic abilities helped him triumph in what was then a very brutal sport.
"Football was such a different game then. It was so brutal. Sixteen people died playing football in Ohio in 1902. Two of them drowned just getting buried face down in a pile-up," Stoner says.
But Follis, Stoner says, had more to overcome than physical hardships. He had to endure rampant racism. Opposing teams and their supporters often shouted epithets. Even his own teammates voiced their disapproval.
"There were people on the team who didn't want to travel with him. There were men on the team who didn't want Charles on the team, who couldn't understand why a black was being allowed to play with them. When they went into other communities where folks had likely never even seen a black man, they would kick him, they would spit at him," Stoner says.
Stoner says Follis endured those hardships. He drew strength from his strong religious faith and from a friend named Brach Rickey. Later Follis would play baseball and his friendship with Rickey deepened.
"Branch was from Ohio, went to Ohio Wesleyan, faced Charles on the baseball field, saw how he was treated, then later got to know him even better, and decided to celebrate him. It's a tremendous story of faith, perseverance, and Charles, just through his love of the game, did change the face of America forever," Stoner says.
The Charles Follis story will again be presented on stage at Malabar Farms next summer. Stoner says there are plans in the works for a feature film.
Follis's life was cut short in 1910. He died of pneumonia at the age of 31.