Loading...


Science and Technology



Tuesday, November 26, 2013




A new liquid screening device approved for use in Europe




The European Union and Australia plan to start using the screening device, called LS10, next year




Story by

DEBBIE HOLMES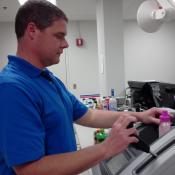 Wes Pirkle says the system should ease air travel by figuring out fast where the dangerous liquids are.
Courtesy of DEBBIE HOLMES
Download (WKSU Only)
In The Region:
Airport security has limited the amount of liquids passengers can carry on planes since the attacks on September 2001.

Starting next year in the European Union and in Australia, rules will be relaxed thanks in part to a new liquid screening device developed by Battelle and Sellex International.

The system can quickly test whether liquids are dangerous. For Ohio Public Radio, WOSU's Debbie Holmes spoke to Battelle's senior research scientist, Wes Pirkle about the new device called LS10.
---
---
Stories with Recent Comments