Loading...


Government and Politics



Friday, November 29, 2013




Congresswoman Marcia Fudge endorses Ed FitzGerald for Ohio governor




With no primary for the 2014 gubernatorial election, Democrat Ed Fitzgerald is taking his message around the state as he unfolds his run for governor.


by WKSU's TIM RUDELL


Reporter
Tim Rudell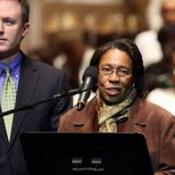 Cuyahoga County Executive Ed FitzGerald with 11th District Congresswoman, and chairwoman of the Congressional Black Caucus, Marcia Fudge
Courtesy of Ed FitzGerald
Download (WKSU Only)
In The Region:
Cuyahoga County Executive Ed FitzGerald says he's now visited 87 of Ohio's 88 counties as he explains his campaign for governor to Democratic Party leaders and workers. And he just picked up a key endorsement. WKSU'S Tim Rudell reports.
From early on, in his quest to unseat Republican John Kasich, Democrat Ed FitzGerald he's sought direct support from notables in his party all over the state. During a morning phone interview he told us why.

"With no primary, it's hard to get everyone on the same page.You have to sit down with them and convince them that you're the best candidate. And that has gone well for us, all over the state."
Fitzgerald now has a key endorsement that had not been all that certain.Congresswoman Marcia Fudge, who represents Ohio's 11th House District and chairs the Congressional Black Caucus appeared with him in Cleveland to announce her support.

In the past she's expressed concerns about FitzGerald not being effective enough in helping minorities and the poor. Now she says all is well and that she and the Cuyahoga County executive are very much on the same page, especially on issues like voting rights. Her District includes parts of Cuyahoga, Lorain, Medina and Summit counties.
---
Related WKSU Stories

Kearney: Will stay on Democratic ticket despite tax troubles
Wednesday, November 27, 2013

Kasich leads FitzGerald by 7 points in Quinnipiac poll
Tuesday, November 26, 2013

Survey reveals voters don't know much about Ed FitzGerald, but he's closing the gap with Kasich
Tuesday, November 26, 2013

FitzGerald formally introduces Kearney as his Ohio gubernatorial running ma
Thursday, November 21, 2013

Kearney was an early pick for FitzGerald, but not a surprise one
Thursday, November 21, 2013
---
---
---
Stories with Recent Comments