Former Cuyahoga County Auditor Frank Russo and former Commissioner Jimmy Dimora are in prison. Requests for funding and contracts now go through County Executive Ed FitzGerald and the council instead of the three commissioners.


Bill Denihan has worked with both systems. He is CEO of Cuyahoga County's Alcohol, Drug Addiction and Mental Health Services Board. He says the new government allows more public input into funding decisions. In the past, he says his organization's yearly budget meeting with the county commissioners provided little room for negotiation.
"If we didn't make the case there was no appeal process, there was no open discussion; we just got what they gave us. With the new county government there's a number of refreshing viewpoints. First, it's a two-year budget cycle which we like because we have two years with the state. The second, more important, part is that it's an open forum on our proposals with county council."
Still working to ensure voter support
Denihan says the new system worked in the mental health board's favor following some cutbacks.
"A couple of years ago, our intakes were closed and we went to the county executive and asked for more funding. He said he didn't have it. We went to the county council and made our case and we got the votes to get the money to open up our intakes. That's one example that worked quite well."
None of the mental health board's dollars were implicated in the corruption scandal. And Denihan says the new government has improved public trust.

But he adds that the county's tainted reputation still means levy campaigns must work harder to ensure voters their money will not be misused. Last month, voters overwhelming passed a health and human services levy, and the county council is currently deciding how to spend it.

Clean construction contracts
Meanwhile, work continues on a new Cuyahoga County Administration Building on the old AmeriTrust property

downtown. The project is in some ways a monument to the old corruption. Thee former commissioners purchased the complex with hopes of converting it into a new administration facility. That project stalled and the building sat vacant for years, costing taxpayers an estimated $45 million.

The county's new government eventually sold the property to a developer at a loss. Under the deal, the developer will pay most of the new administration building's construction cost and lease it to the county for 26 years.

Union support
Ninety percent of the many construction unions at work here are organized by the Cleveland Building and Construction Trades Council. Executive Secretary Dave Wondolowski sees improvement in the contract bidding process.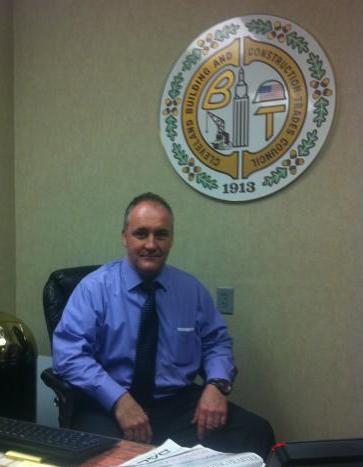 "They notify us and there's a couple of job-reporting online applications where they notify of public bids, then we notify our contractors to go out and bid the work. I just think that because of the committee structures we have with this council, everything is vetted in public meetings and it's pretty open."
Wondolowski says the increased transparency probably makes it harder for the contract steering uncovered in the old commissioner system, where only those three votes were needed to award jobs. And though he likes the new system, Wondolowski believes there is room for improvement. He points to the council member's $45,000 salary.
"I think it's pretty apparent that the council people are not compensated well enough for what they do. Those are really full-time jobs no different from what a Cleveland City Council person has. So I really think they need to adjust those salaries for the county council members. That would entice more people to run for those seats, and I think you'll get a very good quality candidate if you do that.

Not bad, but perhaps better
Overall,Wondolowski says council members are "all very responsive (but) I don't know if the ward system is right for the county.

Then again, he says, "this is so new, and I think it's going to take a good 10 or 12 years for us to really be able to see what's working, what's not working, and how we can make some changes to make it better."

Architects of charter county governments
Cuyahoga County and Summit County are the only charter governments among Ohio's 88 counties. Attorney Gene Kramer helped write the charter that Summit County adopted in 1978, as well as Cuyahoga County's.

He believes Cuyahoga's young system is living up to the expectations of more efficiency and increased accountability through greater checks and balances. But Kramer says there have been some growing pains, like Executive FitzGerald's firing of Sheriff Bob Reid earlier this year, which had some people calling for a return to an elected sheriff.
"But the principle behind the county charter was that you should elect policy-making officers and you should have people appointed to administrative offices based on their experience and qualifications. And they should be accountable to the executive, and the executive should be accountable to the voters."
Overall, Kramer says Ohio needs fewer governmental boards and commissions at both the county and state levels. But he says it's very hard to push entrenched governments out.

Last month, voters in Ashtabula County rejected a bid to switch their commissioner government to a charter system. Kramer says the commissioners argued that they have no corruption like Cuyahoga County experienced, so there is no reason to change.