Loading...


Courts and Crime



Monday, December 9, 2013




Akron police will not respond to security alarms unless a need is confirmed




Nearly all of the alarm calls now are false-alarms




Story by

KELSEY LEYVA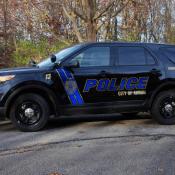 Lt. Rick Edwards says nearly 99 percent of alarms officers respond to are false.
Courtesy of Akron Police Department
Download (WKSU Only)
In The Region:
Akron will soon require proof of an emergency before police respond to security alarms. The Akron Police Department plans to implement a "verified response" program over the next month. Lt Rick Edwards says nearly 99 percent of all alarms are false and in the next few weeks he will be educating the public on the new program.
"We have met with some of our local media, City Council. We've met with the Chamber of Commerce. We've met with the alarm companies. ... We're trying to get the word out so people understand. Don't fear; don't panic. It's not that we're not responding to all alarms. There are some alarms that we are still going to respond to."

Edwards says police will still respond to panic alarms and hold-up alarms at banks. Other alarms, though, will require verification from security cameras or audio surveillance.

The "verified response" program is expected to be implemented in early 2014.
---
---
Stories with Recent Comments