Loading...


Courts and Crime



Monday, December 9, 2013




Akron police to have more involvement in the community




Lt. Rick Edwards says responding to fewer false alarms will allow officers to spend more time in their districts




Story by

KELSEY LEYVA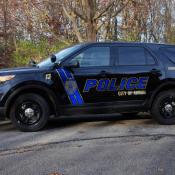 The Akron Police Department is devising a plan that would require officers to do park walks and spend time in the districts they work.
Courtesy of Akron Police Department
Download (WKSU Only)
In The Region:
Police officers in Akron are expected to have more time to patrol their districts because they'll be responding to fewer false alarms beginning early 2014. The new "verified response" program requires security alarms to be verified before law enforcement responds. Lt. Rick Edwards with the Akron Police Department says more than 98 percent of the alarms officers respond to are false. He says the new policy will free-up time for officers to do park walks and community policing.
"When we're not responding to alarms and you look at the time that's spent on those, there's a great opportunity for the officers to get out in the community. Word of mouth and talking with people, in the neighborhoods, in the business districts, you always get so much better of a feedback than you do usually responding just to a call at their house when people sometimes aren't at their best."

Edwards says the department is working on a plan assigning officers to spend a certain amount of time in the specific districts they work.
---
---
Stories with Recent Comments