Loading...


Government and Politics



Monday, December 9, 2013




Summit County gun show protesters, attendees find common ground




Group wants universal background checks at the fairgrounds, and some people inside the gun show say it might not be a bad idea


by WKSU's KABIR BHATIA


Reporter
Kabir Bhatia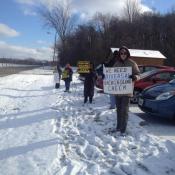 A northeast Ohio group has been protesting the use of the Summit County fairgrounds for a gun show, and wants either universal background checks, or the show to be moved off public land
Courtesy of K. Bhatia
Download (WKSU Only)
In The Region:
The semi-monthly gun show at the Summit County Fairgrounds has attracted protesters for much of this year, asking for background checks on buyers and that the event be moved off public property. As WKSU's Kabir Bhatia reports, gun show attendees offer a mixed response.
The Ohio Gun, Knife and Military shows make the rounds each month among Eastwood Mall in Niles, the fairgrounds in Berea, Buckeye Event Center in Dalton, and the Summit County Fairgrounds. The shows can draw upwards of 200 people per day.

Since March, a small group led by Robert Grow of Fairlawn has been at the latter, protesting.

"I am a chaplain who has ministered to six families who have lost children to gun violence in a five-year period."

Grow, a United Church of Christ pastor, represents the Gun Violence Prevention team for Summit County Progressive Democrats.

"We are trying to close the gun show at the Summit County Fairgrounds because it's a place where people can buy assault weapons, hand guns, ammunition with hollow-point."

Points of agreement
At the very least, he wants the Summit County Agricultural Society – which runs the fairgrounds – to require the gun-show operators to do the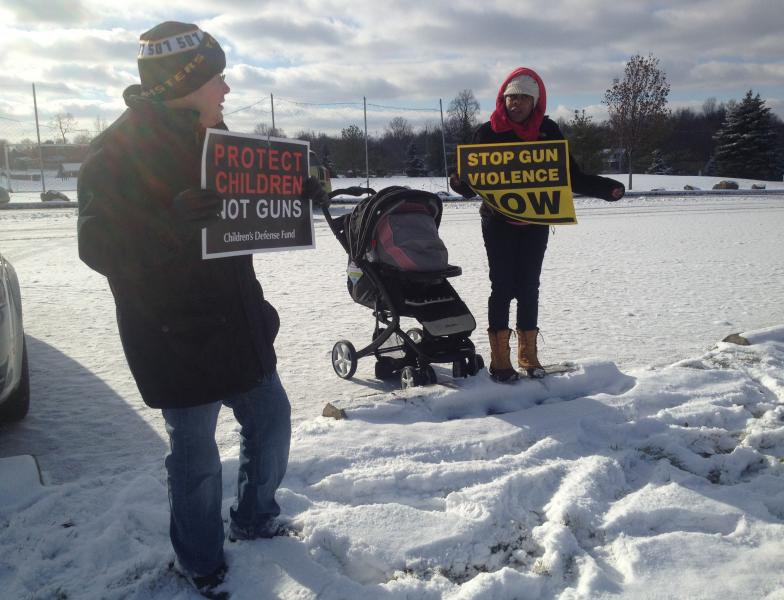 same background checks as gun stores must do.
The agricultural society has declined that request, but has welcomed discussion on the topic at its meetings.

Inside the gun show, vendor Steve Szaraz doesn't have a problem with background checks.

"We totally agree with that because we don't want to sell guns to crazy people. I don't know why that was the first thing the government took off the table because that was the only thing that really made sense.

"It would be a little bit more work on our part to do the background checks, but we'd go for them. We like guns, but we like them in the hands of responsible people."

Szaraz says the extra work could be up to 15 minutes per sale. But if the show is shut down entirely, "We will go to Niles, and Dalton and Columbus and we'll just go somewhere we can sell. If we had to go to West Virginia or Pennsylvania, we'll do that."

Reservations about background checks
Many people declined to speak on the record, but buyer Brad Drury from Cleveland is less enthusiastic about background checks.

"Whatever the general population really wants; we are a representative democracy. Another regulation is another regulation."

And while Drury respects the protesters' right to assemble, he disagrees that the show should be shut down.

"If you sell a permit to one organization, you should be able to sell it to anybody who asks for it. You can't pick and choose and it is a public place."

The fact that the fairgrounds are on public property is the reason Darrita Davis came to protest. She's with Stop the Violence Akron.

"There's an Agricultural Society that hosts these gun shows. If they're concerned about the environment, they should be concerned about lives and healthy communities."

Ohio law goes the other way
Her protests extend to the bill recently passed by the Ohio House that parallels parts of Florida's stand-your-ground law – no longer requiring someone who can retreat to do so before using deadly force.

"A healthy community, to me, is one without a 'Kill at Will' bill or HB 203. If this particular organization cares about the Earth, they should care about keeping people safe."

Davis acknowledges that the reasons for gun violence do not start and end at a gun show. But she says background checks are one way to attack the problem. She also noted that a counter-demonstration has sprung in recent months, but that group was absent during Saturday's sub-freezing temperatures.
---
---
---
Stories with Recent Comments