Loading...


Government and Politics



Monday, December 9, 2013




Congresswoman Fudge to represent Cleveland at Mandela memorial




Fudge to attend as part of U.S. delegation including Congressional Black Caucus




by WKSU's AMY COOKNICK



Reporter
Amy Cooknick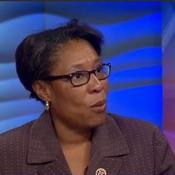 Fudge now heads the Congressional Black Caucus, which fought hard to implement sanctions that brought an end to apartheid.
Download (WKSU Only)
Johannesburg, South Africa:
Congresswoman Marcia Fudge of Cleveland will represent Ohio at Nelson Mandela's national memorial service Tuesday in Johannesburg, South Africa. The Cleveland congresswoman is attending the memorial as part of the 23-member U.S. Congressional delegation. Fudge chairs the Congressional Black Caucus, the group responsible for pushing the U.S. to sanction South Africa during apartheid. Fudge's spokeswoman Belinda Prinz notes that Mandela's legacy transcended race and nation.
"Mr. Mandela was truly an exceptional leader and it is to pay tribute to his contribution, not only to the people of South Africa, but for all the people around the world that he has inspired with his leadership."
President Barack Obama and First Lady Michelle Obama will also attend Mandela's memorial, along with former presidents George W. Bush, Bill Clinton and Jimmy Carter.
---
---
---
Stories with Recent Comments