The acronym of the day was R&D and D & D – that's the innovation chain: research, development, demonstration and deployment. The director of the Oak Ridge National Laboratory Thom Mason explains that chain.
"The development is about taking that science and exploring the realm of the possible. Demonstration is showing that it will work. When you get to the deployment phase, that it's going to be viable in the marketplace."
And deployment is something that manufacturers do, and those are the kind of companies Ohio has. The head of the Pacific Northwest National Lab in Washington State is Michael Kluse. For all its research power, he's looking to connect with private industry
The private-company conduit
"About 95 percent of the energy infrastructure is owned by the private sector. If we're going to make a difference, the technology we develop at our laboratories needs to get out into the private sector and that typically requires partnering with industry to ensure that technology works at scale."
Secretary of Energy Earnest Moniz couldn't make the summit because his plane was iced over in Washington. He may not have known that NASA Glenn has been conducting research on de-icing. But by phone he said his department has a portfolio of more than $30 billion to bolster energy-related research
"The federal government does have a critical role to play in demonstration and deployment and not just in R&D. ... The risks of climate change will not wait for what is usually a 50-year or so timescale for a substantial change of the energy system."
If Ohio can't have its own lab...
Congresswoman Marcy Kaptur wants Ohio companies and universities to take advantage of the powerful tools and deep research that goes on at the national labs. She laments that Ohio does not have one but is hoping that NASA Glenn might play a role.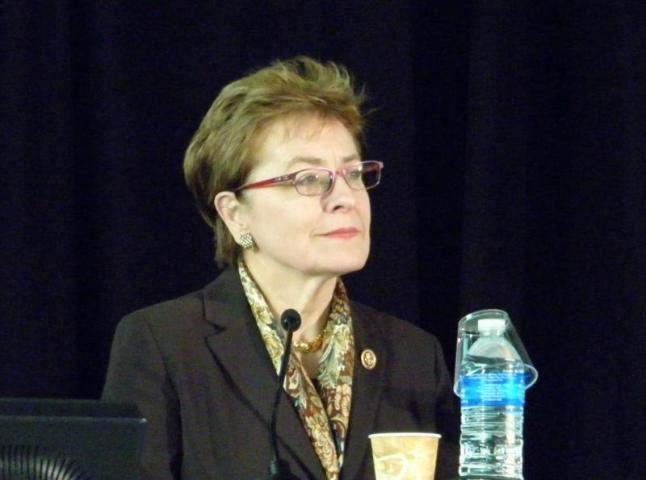 "My personal goal is to work with NASA here in Brookpark to see if we can't sign collaborative agreements with companies and organizations in this region and then connect to the energy labs in a more robust way."
But the director of the Argonne National Lab in Chicago, Eric Isaacs, says a central institution is not needed to make connections with Ohio companies.
Long-term investment
"It takes academia; it takes small companies; it takes large companies to explore different paths," says Thom Mason from Oak Ridge. "Long-term research is something the national labs can offer business,"
"That's something a company accountable to their shareholders simply can't sustain."
The labs may not be a ble to sustain that either as government cutbacks have forced them to cut as well. Eric Isaac from Argonne fears that it could be a loss of the seed corn that grows and feeds the economy.
"There are studies out there that suggest that 25 to 50 percent of all of the wealth of this country are based on the technologies that were developed of the 50's, 60's, and 70's. "
But while some federal energy-research money is still available, Ohio universities and manufacturers are hoping to plug in.