Loading...



From WKYC.COM / TV 3
Get the latest school closings and delays


Funding for WKSU is made possible in part through support from the following businesses and organizations.
---
For more information on how your company or organization can support WKSU, download the WKSU Media Kit.

(WKSU Media Kit


)
---

Health and Medicine



Wednesday, December 11, 2013




Ohio drops to 40th on public health rankings




Diabetes, immunization and air pollution all add up to problems




Story by

LAUREN SCHMOLL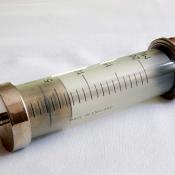 Ohio's vaccination rate is one reason it ranks so poorly.
Courtesy of JOE FLINTHAM creative commons
Download (WKSU Only)
In The Region:
Ohio has dropped to 40th among the states in national health rankings, down five spots from last year. It's the state's worst performance in the 24 years the United Health Foundation has issued the analysis. Ohio's problems an increase in and a drop in childhood immunization. Only about two-thirds of the children in the state get all their vaccinations. Ohio also has a high level of air pollution and of preventable hospitalizations. Johnathan VanGeest is the chairman of the department of Health Policy and Management at Kent State University. He says the biggest issue is a lack of public-health funding.
"Bottom line I think what we need to do is get serious about our commitment to public health in this state. And that commitment is translatable into how we invest for the future."
On the plus side, smoking in Ohio dropped by 8 percent, and adult inactivity by 7 percent.
Vangeest notes the survey changed considerably this year: Based on the old scale, Ohio dropped only two rankings.
Page Options

Print this page

E-Mail this page / Send mp3

Share on Facebook
---
---
Stories with Recent Comments