Loading...


Government and Politics



Wednesday, December 11, 2013




Budget deal could cut unemployment to 40,000 Ohioans




Sen. Sherrod Brown says emergency unemployment program should be renewed




Story by

LEWIS WALLACE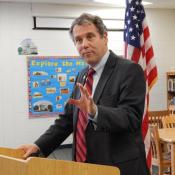 Ohio's U.s. Sen. Sherrod Brown says emergency unemployment program should be renewed
Courtesy of Lewis Wallace
Download (WKSU Only)
In The Region:
Congress is on its way to a budget deal — a couple weeks ahead of the Jan. 1 deadline. But the deal does not include extending emergency unemployment benefits. For Ohio Public Radio, WYSO's Lewis Wallace reports that 40,000 Ohioans could see their payments end this month.
Congress put together the emergency unemployment program early into the Great Recession to help out people who are unemployed long term.

Basically, when state unemployment expires, this federal program swoops in with up to 14 extra weeks of help.

The program was last renewed in 2012, and Ohio's Democratic U.S. Sen. Sherrod Brown is one of the people calling for another renewal as soon as possible.

"We know that unemployment insurance has a real ripple effect in the economy, that people who receive unemployment benefits, which they've earned, are spending that money in the hardware store in Springfield and the grocery store in Huber Heights and the auto body shop in Dayton, and that money circulates and creates other economic activity and creates jobs."

But Democratic negotiators in Congress agreed to keep this unemployment extension off the table — in order to get a budget deal on the table.

As it stands, about 1.3 million people across the country could get cut off at the end of the month.
---
---
Stories with Recent Comments